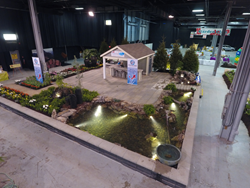 "Huge display, we've been here since Monday building it...it's unbelievable!" said Brian Fitzsimmons of the show.
Bound Brook, New Jersey (PRWEB) March 04, 2017
New Jersey's Fitz's Fish Ponds won big at this year's New Jersey Flower & Garden Show. Held in the NJ Convention & Expo Center in Edison, New Jersey, this was the 15th annual show for the organization, and Fitz's first time as a participant. The theme for this year was "Color The World" and focused on unique garden displays developed by garden centers, nurseries, and landscapers inspired by colorful places throughout the world.
The four-day event, held from February 23rd, 2017 through February 26th, 2017, featured almost 200 exhibitors. Many categories were offered, including horticulture, botanical decor, outdoor lighting, and more. Fitz's Fish Ponds incredible displays were designed by Mike Hall, and highlighted a variety of Fitz's services, including koi fish ponds, backyard designs, unique waterfall creations, and outdoor lighting structures. Although the event did not begin until Thursday, the Fitz team arrived at the Expo Center that Monday to begin building the display. They worked tirelessly to develop the impressive architecture from the ground up and their hard work clearly paid off.
Not only did onlookers recognize the aesthetic beauty of Fitz's displays, but the Flower and Garden Show judges did as well! Fitz's Fish Ponds won not one, not two, but a whopping FIVE first place prizes at the event. Best Landscape Design, Best Use of Structural Elements, Most Creative Water Feature, Most Dramatic Outdoor Lighting, and Best in Show of 2017 are now titles held exclusively by the Fitz Team. Additionally, Fitz also placed second for the People's Choice award. As passersby ogled at the glittering waterfalls and the lively Koi fish in their ponds, owner Brian Fitzsimmons couldn't help but beam with pride.
"Huge display, we've been here since Monday building it...it's unbelievable!" said Brian of the show.
In a seemingly busy and crowded arena, Fitz's ponds and structural display offered not only creativity and excitement, but also serenity. Printed on banners around the exhibit was Fitz's message, "Making your backyard dreams a reality." This has been a goal of Brian Fitzsimmons' since age 13, when he built his first pond in his parents' backyard while they were away on vacation. These days, Brian is able to bring the feeling of vacation and paradise to backyards across the entire Tri-state area. With both their retail store as well as the many services they offer, Fitz's Fish Ponds is a full service pond developer and supplier. The 2017 New Jersey Flower & Garden Show was not the only place for visitors to see Fitz's amazing work. Owner Brian encourages customers to visit the pond headquarters and design their own version of paradise. For inspiration, watch the brief video recapping the event on YouTube. To get started, visit fitzfishponds.com or call 908-315-7377 and speak to a team member today!