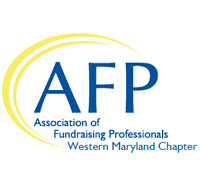 Frederick, Maryland (PRWEB) March 06, 2017
For the first time, the Association of Fundraising Professionals, Western Maryland Chapter (AFPWMD) has been named a 2016 Ten Star GOLD Chapter by the Association of Fundraising Professionals' worldwide headquarters in Arlington, VA.
Every year, AFP, the largest association of professional fundraisers in the world, honors chapters for achieving goals that align with key objectives in its long-range strategic plan. Chapters receive the Ten Star GOLD Award for performing specific activities designed to increase professionalism within fundraising and public awareness of the importance of philanthropy.
"On behalf of the Western Maryland Chapter of the Association of Fundraising Professionals, we are thrilled to be named a Ten Star Gold Chapter," said AFPWMD President Jane DiGirolamo. "This award demonstrates that the philanthropic and nonprofit fundraising community is growing in its scale and depth in Western Maryland. Our intention is to continue this tradition of ethical fundraising and excellence in philanthropy. I want to recognize Immediate Past President, Angela Phillips, for her leadership as president from 2015-2016 to help our chapter attain this highest honor."
Less than 20 percent of AFP's 243 chapters earn the Ten Star Gold Chapter recognition, making the AFPWMD one of the Association's leading chapters around the world. Ten Star Gold Chapters are recognized at the AFP International Conference on Fundraising. Chapters also earn the privilege of displaying the Ten Star Gold logo on their website, newsletters and stationary.
"Our Ten Star Gold Chapters go above and beyond in terms of working with the community and educating people about fundraising and the importance of philanthropy and wise giving," said Jason Lee, AFP Interim President and CEO. "AFP, Western Maryland Chapter has done an extraordinary job, and I want to congratulate all of the chapter leaders and members for their dedication to ethical and effective fundraising and philanthropy. AFPWMD is an excellent resource for the local community, and I encourage those interested in fundraising and philanthropy to contact this Ten Star Gold Chapter."
For more information about AFP Western Maryland Chapter and its members, please go to afpwesternmd.afpnet.org.