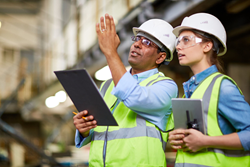 Employer engagement is the must-have component when developing credentials that prepare individuals for today's workforce.
Vernon Hills, IL (PRWEB) March 07, 2017
Employer engagement remains the top priority, especially in regards to establishing a more connected, transparent, and equitable credentialing system in the U.S. As part of a Connecting Credentials campaign, one-on-one interviews and the first-ever community survey revealed that learning more about employer engagement was the most urgent priority in the Action Plan (see attached report, "From National Dialogue to Collective Action: Building Learning-Based Credentialing Systems.") The data collected confirmed the critical need to successfully collaborate with employers as the primary consumer of credentials in the marketplace.
To help educate the workforce training and credentialing community about successful strategies for collaborating with employers, Connecting Credentials invited Dr. Amanda Opperman, Director of Competency-Based Solutions at Wonderlic, Inc., to share her knowledge and expertise on this topic at a Webinar on March 15th at 12:00 p.m. CT. Click here to register.
Dr. Opperman recently led a nationwide initiative, known as the National Soft Skills Consortium, which included over 18 months of work with employers to develop a soft skills competency framework for curriculum, assessment, and credential development.
The work that she conducted with the Consortium yielded valuable data and best practices that will prove beneficial and applicable to members of the workforce training and credentialing community. According to Dr. Opperman, "Employer engagement is the must-have component when developing credentials that prepare individuals for today's workforce."
Dr. Opperman will be joined by four members of the Consortium who were part of the research and development for the soft skills competency framework. These members are:
Bruce Hohense: President of Talent Driven Consulting and prior Sales Department Manager for Oregon Freeze Dry, Inc.
Andre Johnson: Vice President of Training & Development at Success Training and previous Center Manager for Workforce Solutions for Tarrant County
Diane Jones: President of AJ Squared Consulting and former Assistant Secretary of Postsecondary Education for the U.S. Dept. of Education
Cory Werkheiser: Career Services Coordinator at Patrick Henry Community College and previous Education Coordinator for Mountain States Health Alliance
(Join the twitter discussion on how to improve employee outcomes at #employerstalk).
About Connecting Credentials
The home of Connecting Credentials is Corporation for a Skilled Workforce, a nonprofit, which catalyzes nationwide transformative change in education, economic, and workforce development through research and action. The organization is dedicated to reimagining work and learning as a means to increasing economic opportunity and sustainable prosperity for vulnerable people, companies, and communities.
About Wonderlic
With over 80 years of experience working with thousands of businesses, schools and nonprofit organizations, Wonderlic is deeply invested in the training and success of the American workforce. Wonderlic has an extensive background in assessing the knowledge, skills, and abilities of job applicants, as well as post-secondary trade and technical students. Also, since 2015, it has led the National Soft Skills Consortium. This Consortium is dedicated to the delivering competency-based education to bridge the soft skills gap in the U.S. workforce through the development of curriculum, assessment, and credentials for the top soft skills that employers value most.