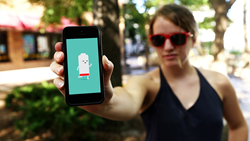 Boston, MA (PRWEB) March 07, 2017
REWOP (http://www.rewop.co) is a multi-platform mobile app that helps people in major cities find places to charge their devices. Upon reaching low phone battery, the REWOP app will notify users of nearby phone charging stations. Charging locations, ratings, and other information on the app will be crowdsourced from users.
Surveys show that over 70% of smartphone users across the country report to have experienced anxiety over a low or dead smartphone battery. To combat that, and to help promote the phone app during SXSW, REWOP branded charging stations will be deployed at the Austin Convention Center and venues throughout the city.
The REWOP team will focus on New York City, Boston, San Francisco, and Philadelphia for initial testing of the market to gauge consumer adoption. Starting March 7th, REWOP will be available and free to download from Google Play or the App Store.
ABOUT REWOP
REWOP, LLC was founded in 2016 by some of the partners of Veloxity (http://www.veloxity.us) with the mission to cure low and dead battery anxiety for everyone. The REWOP app uses crowdsourcing to establish a network of charging locations that people can use in major US cities.