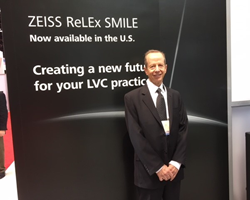 "We are thrilled that this exciting new technology is finally available to surgeons and patients in the U.S. It is a new and appealing option for many who have concerns about the existing choices for surgical vision correction."
Denver, Colorado (PRWEB) March 07, 2017
After personally working for almost 10 years on the next big advancement in laser vision correction, Jon Dishler M.D., became the first surgeon in America to perform the 1st ReLEx/SMILE procedure on a patient, Kierra Montano, post FDA approval on March 3, 2017.
With hundreds of SMILE procedures under his belt, this new breakthrough procedure is now available to patients at Dishler Laser Institute.
During this long development, and over the last several years the Zeiss VisuMax technology was approved in virtually all the rest of the world, and as a result, there now have been over 1 million ReLEx/SMILE procedures performed. That's a lot of procedures and should help ease the minds of anyone who is concerned about trying something new.
So what is this new procedure? It is called ReLEx SMILE. It really could be called either, but Zeiss, who are the "brains" that invented this technology, wanted to use both names. ReLEx stands for refractive lens extraction, and SMILE means small incision lenticule extraction. So what is this all about?
Most have heard of LASIK, where a corneal flap is made, with either a blade or a laser, and then after peeling back the flap, the inner surface of the cornea is treated with another type of laser, an excimer laser, to reshape the eye. All of this has scared many of the faint of heart away from LASIK. Some just don't like the idea of a flap. Nonetheless, many, especially the so-called Millennials, have been waiting for the next generation procedure to show itself.
Enter SMILE. Here, a tiny incision can be used to remove a very small piece of tissue that is cut by the laser, to restore vision, and without a flap! The laser, made only by Zeiss, is called appropriately enough, the VisuMax. In about 35 seconds, the laser precisely cuts the shape of a small contact lens from within the cornea, and then the surgeon removes this piece of tissue. The eye is permanently reshaped, to a front surface which is very similar to that obtained by wearing a soft contact lens, and clear vision is restored.
Currently ReLEx SMILE is approved for about 99% of all nearsightedness cases, so even very bad eyes can be fixed. It does not yet correct astigmatism, but another study, that is almost complete, will hopefully expand the range to include these people also. When this happens we will have a viable alternative to LASIK for almost everyone seeing laser vision correction.
So how were the results. In a word, they were great. Both the vision results were superb, the complications were few, and about the experience of study subjects revealed that most everyone was very satisfied.
What does Dr. Jon G. Dishler have to do with all of this? He was the medical monitor for the Zeiss VisuMax myopia study, overseeing and stewarding the study before, during, and after to this point of approval. Dr. Dishler and staff treated their fair share of the patients as an investigative site. They learned first-hand in both this study, and the astigmatism one that followed, just what makes this procedure work well, and they are happy to make it available to the right people very soon.
Who are these "right people"? Part of this is easy, it is the people who fit the criteria of any voluntary refractive eye surgery, of healthy eyes other than nearsightedness. In addition, such folks as policemen/women, firefighters, avid sports nuts, and anyone who might get hit in the eye makes the most sense. This is why the US military is so excited about ReLEx SMILE, and why they are starting their own study very soon for military personnel. Their study will bring further validation to the process, since people like pilots and combat ready troops will be treated.
How available is the ReLEx/SMILE vision correction procedure? To begin with, the ReLEx/SMILE will be offered by the six investigative sites, including Dr. Dishler, then a select group of prestigious doctors and institutions, and a short time later it will be rolled out to several doctors in most communities throughout the country. A year from now this should be widely available.
If you have an interest in finding out if you are a good candidate for this new refractive procedure, then please make an appointment for a consultation with Dishler Laser Institute. Come on in for a chat. They will let you know if the SMILE laser eye correction procedure is for you.