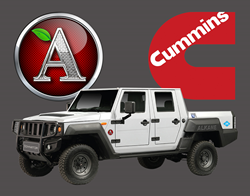 Alkane and Cummins engineering teams have met in the last several weeks to develop production plans for the addition of the clean diesel fuel engines to the Alkane line of vehicles.
Myrtle Beach, South Carolina (PRWEB) March 07, 2017
Alkane Truck Company, the South Carolina-based assembler of alternative fuel vehicles, is exploring a supply agreement with leading diesel engine manufacturer Cummins Inc. to offer clean diesel engine options for Alkane's line of heavy-duty trucks and off-road vehicles. Pending successful engineering tests and modifications, Alkane has identified three Cummins engines to offer its customers: the V5.0 engine for the Alkane Dominator™, the B6.7 diesel engine for the Class 7 and, once it becomes available in 2018, the X12 engine for the Alkane Class 8 heavy-duty trucks. This supply agreement would accelerate the company's operations and vision of introducing clean diesel engines to join the broad range of alternative fuel vehicles for the trucking and off-road vehicle industries in America.
"Because of the overwhelming interest of so many of our 103 dealership locations across North America, we've decided to include the option of a clean diesel fuel engine in our Dominator, our Class 7 and our Class 8 series trucks," says Robert Smith, CEO of Alkane Truck Company. "Alkane and Cummins engineering teams have met in the last several weeks to develop production plans for the addition of the clean diesel fuel engines to the Alkane line of vehicles. We're thrilled that we may be able to offer these engines to our Alkane customers in the near future."
The first of the three Cummins engine options Alkane hopes to offer customers is the V5.0, which has been engineered to combine advanced materials, the latest High Pressure Common Rail (HPCR) fuel system, Cummins VGT Turbocharger and Cummins emission control technology to produce an extraordinarily clean, quiet, and fuel efficient V8 diesel engine. (Visit the Cummins website http://www.cummins.com for more detailed information.) With fuel economy as a primary concern, switching from a gasoline V8 to the Cummins V5.0 V8 diesel reduces the cost of operation significantly; diesel fuel economy is typically better than a V8 gasoline engine of comparable performance. Ideally suited for pickup and delivery vehicles and light- and medium-duty trucks, the V5.0 is also perfect for Alkane's Dominator--the alternative-fuel off-road answer to the Hummer and new Land Rover Defender.
Alkane is equally excited at the possibility of offering the B6.7 for its Class 7 trucks and the X12 for its Class 8 trucks. This new, more efficient 6.7-liter engine demonstrates up to 7% better fuel economy over the EPA 2013 B6.7 and the highest gains in key duty cycles running at lower speeds; in inner-city operations, the B6.7 had accumulated over 1.5 million test miles in multiple real-world applications prior to its 2017 launch. According to Cummins, the 2017 B6.7 will be fully capable for the introduction of stop-start technology that will yield further improvements in fuel economy in stop-and-go duty cycles.
The Cummins X12, meanwhile, aims to redefine the medium-bore engine category (10L-13L) by setting a new standard for productivity in regional-haul, vocational and intermodal truck applications. At least 150 pounds lighter than the next closest competitive engine and up to 600 pounds lighter than other medium-bore engines, the 12-liter will still deliver Alkane trucks a powerful performance from 350 hp to 475 hp and 1250 to 1700 lb-ft of peak torque. At just 2,050 pounds, it has the highest power-to-weight ratio of any heavy-duty engine from 10 liters to 16 liters in size--a combination of power and efficiency Alkane Truck Company hopes to be able to offer its customers in 2018 and beyond.
This exploratory supply agreement with Cummins comes on the heels of the announcement of a recently penned exclusive partnership with Agrale of Brazil, the manufacturer of the Dominator body. Agrale manufactures a full line of vehicles, including all military vehicles for the government of Brazil, passenger bus chassis, Class 7 trucks and a full line of agricultural tractors. The Alkane-Agrale partnership looks to establish 12 assembly facilities across North America to accommodate the assembly of a full line of Alkane-Agrale vehicles. Agrale is a privately-owned company in business since 1952 with five large manufacturing facilities in Brazil. Alkane-Agrale will use only American-made engines, transmissions, axles, wiring harnesses, dash board components, tires, wheels and other components; in fact, over 65% of the vehicle parts will be made in the USA by an all-American skilled labor force. Over the next five years, Alkane-Agrale's Buy American/Hire American policy anticipates the creation of more than 1,500 high-paying skilled jobs in America's heartland.
About Alkane Truck Company
Alkane Truck Company is an assembler of alternative fueled vehicles. Alkane vehicles are sold worldwide and are available in Gasoline, Diesel, Propane Autogas (LPG), Compressed Natural Gas (CNG), and Liquefied Natural Gas (LNG). The company is headquartered in Myrtle Beach, South Carolina. For more information, visit our website http://www.alkanetruckcompany.com