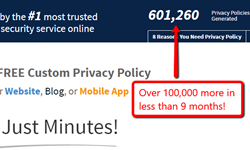 The importance of privacy protection has steadily trended upward.
Ogden, UT (PRWEB) March 07, 2017
Trust Guard's free privacy policy generator has reached another extraordinary milestone: More than 600,000 website owners have now used its complementary privacy policy generator to create their own customized privacy policies.
The privacy policy creator limits their liability by adhering to the most notable state and federal privacy laws and third party initiatives. These include: Google and Apple's privacy policy requirements, Federal Trade Commission Fair Information Practices, the Children's Online Privacy Protection Act (COPPA), Can-Spam Act, and the California Online Privacy Protection Act (CalOPPA).
"FreePrivacyPolicy.com makes it easy to create custom privacy policies," said Dave Brandley, CEO of Trust Guard, LLC, and creator of the policy generator. "In 15 minutes or less, a professional privacy policy can be created and ready to add to a website, blog, or mobile app."
Website owners overwhelmingly report their satisfaction in building their policies. In fact, according to thousands of customer ratings and reviews collected by ShopperApproved.com, "95 percent of customers would recommend FreePrivacyPolicy.com to a friend."
Already in 2017, a medical center in Texas just paid over $3 million in penalties for privacy breaches. Online consumers who are skeptical about a website's security and privacy are unlikely to do business with them, reinforcing the need for a highly visible privacy policy. In an effort to increase the visibility of these policies and show online visitors that a website will protect their privacy, Trust Guard created the Privacy Safe trust seal for website owners to place on their checkout pages right below their "Buy Now" buttons. These trust seals link to the website's policy and have been proven to increase conversion rates significantly.
Internet privacy concerns have been increasing in recent years. In fact, less than 9 months ago, Free Privacy Policy visitors had only created 500,000 unique, customized privacy policies. Since then, business owners and app developers have created several thousand privacy policies every week.
About FreePrivacyPolicy.com:
The Free Privacy Policy website provides business owners with an affordable way to create a privacy policy that is consistent with state and federal laws. The service has now been used by over 600,000 website, blog, and mobile app owners. FreePrivacyPolicy.com is provided courtesy of TrustGuard.com, a leader in PCI compliance, website cyber security scanning, privacy, and business verification services.
For questions, please contact 877-848-2731.