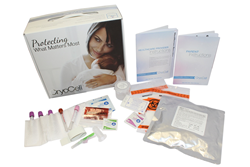 "This appears to be one of the best performing cord blood collection kits of any private or public bank," said Todd Schuesler, Director of Cryo-Cell International's laboratory and cryo-preservation facility.
Oldsmar, Florida (PRWEB) March 07, 2017
Following an in-depth study lasting more than two years, Cryo-Cell International is proud to announce the launch of a new advanced kit for the collection and transportation of clients' cord blood and tissue. The kit provides 30 times more protection from outside temperatures than other kits currently used in the cord blood–banking industry and features a new jostle-free, eco-friendly briefcase design that securely holds each component of the kit in place during transportation. The kit will continue to contain a heparin-free, FDA-approved cord blood collection bag and the necessary materials to store more testing samples for the future benefit of Cryo-Cell International's families.
A stem cell exposed to temperatures outside the range of 39–86 degrees Fahrenheit (4–30 degrees Celsius) can lose functionality. In addition, some routine tests, which look for the presence of infectious diseases, are invalid if the maternal blood stays above 77 degrees Fahrenheit (25 degrees Celsius) for more than 24 hours.
Our collection kit features new vacuum-insulated panels that are ten times more resistant to thermal change and includes gel packs that absorb or give off energy in the form of heat to help maintain the desired temperature range. This provides Cryo-Cell International the distinct advantage of being able to consistently hold safe temperatures for extended periods of time. To ensure temperatures stay within the desired range, an internal indicator continuously monitors the temperature during transportation and alerts us if there was a temperature excursion above 86 degrees or below 39 degrees.
The kit's all-new briefcase design is made from almost completely recyclable or re-usable materials. This eco-friendly approach to our collection kits is part of Cryo-Cell International's continued efforts to institute "green" procedures, processes and products whenever possible. Inside, new jostle-free placeholders securely hold collections in place during transportation.
Parents will continue to find a large, 250-milliliter cord blood collection bag that uses the anti-coagulant citrate–phosphate–dextrose (CPD) as recommended by the FDA. Studies show that CPD collection bags can increase the stem cell yield by more than 50 percent compared with heparin collection bags used by some other cord blood banks. Heparin is not recommended by the FDA.
In addition, the collection kit will continue to house five vials for collecting the mother's blood. Cryo-Cell International collects additional vials of the mother's blood in case it is ever needed for future testing. The preservation of these additional maternal samples goes hand in hand with our commitment to retain and preserve the cord blood's plasma and red cells, which are routinely discarded by other cord blood banks. These two measures are taken to facilitate possible future transplant needs and in the anticipation of possible future developments in medical science.
About Cryo-Cell International, Inc.
Founded in 1989, Cryo-Cell International, Inc. is the world's first private cord blood bank. More than 500,000 parents from 87 countries trust Cryo-Cell to preserve their family members' stem cells. Cryo-Cell's mission is to provide clients with state-of-the-art stem cell cryopreservation services and support the advancement of regenerative medicine. Cryo-Cell operates in a facility that is FDA registered, cGMP-/cGTP-compliant and is licensed in all states requiring licensure. Besides being AABB accredited as a cord blood facility, Cryo-Cell is also the first U.S. (for private use only) cord blood bank to receive FACT accreditation for adhering to the most stringent cord blood quality standards set by any internationally recognized, independent accrediting organization. In addition, Cryo-Cell is ISO 9001:2008 certified by BSI, an internationally recognized, quality assessment organization. Cryo-Cell is a publicly traded company, OTCQB:CCEL. For more information, please visit http://www.cryo-cell.com. For a complete list of reference, visit http://www.cryo-cell.com/references.