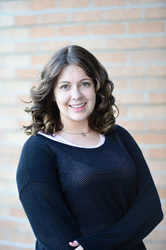 For me, it really helped pay what my financial aid didn't cover. This is honestly such an awesome opportunity for students.
Salt Lake City, Utah (PRWEB) March 07, 2017
Salt Lake Community College's SLCC Promise began about a year ago with a pragmatic approach to combat what for many is the prohibitive cost of pursuing a college education. In its first year, SLCC Promise has helped about 700 students with more than 1,000 awards that approach $800,000 in value.
The idea is simple: remove economic barriers and help eligible, full-time students pay for their education by covering the cost of tuition and fees when federal grants fall short.
"We are thrilled with the initial success of the program and look forward to finding additional avenues for our students to succeed," said SLCC President Deneece G. Huftalin.
To be eligible for SLCC Promise funds, students first must exhaust other sources of financial aid, including federal Pell grants, VA chapter benefits, scholarships and other tuition waivers. With requirements to develop an academic plan in collaboration with an academic advisor, maintain a 2.0 GPA and attend full time, SLCC Promise is providing a pathway for students to succeed and complete their degrees at SLCC.
"For me, it really helped pay what my financial aid didn't cover. This is honestly such an awesome opportunity for students," said SLCC student Mikelle Bender, who is pursuing social work for an academic and career path. "The (SLCC) advisors were able to make sure I had the correct courses that I needed all planned out. I was always taught that it is important to go into things prepared and with a plan, and I think SLCC Promise kind of reinforces that."
For more information, visit slcc.edu/promise.
Salt Lake Community College is an accredited, student-focused, comprehensive community college meeting the diverse needs of the Salt Lake community. Home to more than 61,000 students each year, the College is Utah's leading provider of workforce development programs. SLCC is also the largest supplier of transfer students to Utah's four-year institutions and a perennial Top 10 college nationally for total associate degrees awarded. The College is the sole provider of applied technology courses in the Salt Lake area, with multiple locations, an eCampus, and nearly 1,000 continuing education sites located throughout the Salt Lake Valley. Personal attention from an excellent faculty is paramount at the College, which maintains an average class size of 20.