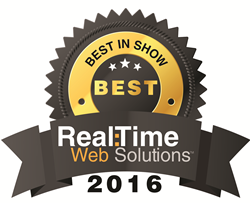 The business applications for SmartGlasses utilizing real-time communications are endless.
Surrey, BC (PRWEB) March 07, 2017
With the global augmented reality market projected to hit $90 billion by 2020, wearable digital glasses, or SmartGlasses, are becoming increasingly sought-after for business applications worldwide. Frozen Mountain, a multi-award winning provider of cross-platform Internet-based Real Time Communications (iRTC) products and services, now supports WebRTC audio/video on Android-powered SmartGlasses, in addition to all other native, web and mobile platforms.
While Google Glass did not fulfill expectations of popularity with consumers in recent years, business use cases for SmartGlasses are expanding exponentially. Frozen Mountain's IceLink and WebSync SDKs, which together provide the complete solution for WebRTC-based audio, video and data streaming, now support two popular models of SmartGlasses — Vuzix's M300 and Osterhout Design Group's R-7 — with support for additional models planned for 2017.
SmartGlasses, along with Frozen Mountain's IceLink and WebSync products, are currently being used by organizations such as NASA to develop applications that allow for better communication between staff in the field and in the office. Wearing SmartGlasses, operations staff in the field and administrative staff in the office can examine and discuss the same things at the same time.
"The business applications for SmartGlasses utilizing real-time communications are endless," says Anton Venema, Frozen Mountain's CTO and the architect behind SmartGlasses support. "From mining to real estate to equipment inspections, SmartGlasses are going to dramatically change the way we do things. We're thrilled to be adding support for this exciting new platform to our IceLink and WebSync SDKs."
Similar to the invention of the multi-party conference call in 1956, widespread adoption of real-time audio/video communication and augmented reality with SmartGlasses will forever change the future of work for many industries.
To learn more about real-time communications solutions with IceLink and WebSync, visit frozenmountain.com.
###
Started in 2008 and having grown to over 300 customers in 47 countries worldwide, Frozen Mountain Software provides cross-platform, licensed Internet Based Real-Time Communication (iRTC) SDKs such as the multi-award winning IceLink, and services that allow organizations to incorporate WebRTC audio/video streaming, selective forwarding, audio/video mixing, screen sharing, call signaling, text chat, shared whiteboards, browser synchronization and internet pub/sub messaging into their applications. Learn more at frozenmountain.com.