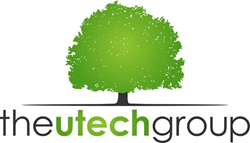 Unlike traditional consultants, Utech provides a family of services to create change, starting with the most important asset of an organization: its people.
De Pere, Wisconsin (PRWEB) March 09, 2017
For 25 years, Utech Consulting, Inc. has been making an impact on people's lives through cultural alignment and organizational development. Their unique approach uncovers deeply rooted conflicts that prevent organizational growth. Then, through the development of a solid structure of strong leaders and high-functioning teams, Utech addresses these conflicts and delivers lasting results that change people's lives. https://www.utechOD.com
Over the past year, Utech has experienced 40% employee growth with new products and services in the areas of culture analytics and workshops that drive deep, meaningful change with leadership teams and organizations. As a result of growth, the current 'Customized Organizational Development' logo no longer encompasses the entirety of these offerings.
The Utech Group new name and logo fully embraces that business expansion to represent the family of services they offer – ranging anywhere from culture analytics to personal development. For example, illumyx, their culture analytics platform, has a team of culture experts and account executives that work with companies to drive data-driven culture change that leads to improved business results. Meanwhile, the Organizational Development Collective takes a more hands on approach and engages individuals from various organizations in monthly team building and leadership workshops.
Overall, Utech's services focus on change management, starting with the most important aspect of an organization: its people. In business, there's a belief that emotions don't have a place, or that people should keep their personal and professional lives separate. But people are fueled by their personal and emotional experiences. In fact, company culture is created through the engagement, interactions and emotions employees bring to the workplace, so they should not be disregarded. These factors make an organization unique.
Driven by this belief, Utech dives into organizations to discover the source of workplace tension and bring it to the forefront. Working with leadership teams, Utech helps people become aware of themselves and their impact on the overall culture of the organization. Only then, can everyone start moving together towards a common vision and goal.
To learn more, visit http://www.utechOD.com