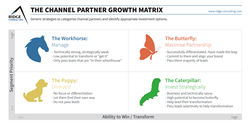 All Channel Partners Are Equal. But Some Are More Equal Than Others.
Columbia, Maryland (PRWEB) March 07, 2017
Ridge Consulting is today announcing the publication of its new model for optimizing a channel ecosystem to drive business growth. The "Channel Partner Growth Matrix" is a breakthrough tool that technology vendors can use as part of their growth strategy for channel partners.
The major technology vendors have thousands of channel partners worldwide. While the channel ecosystem is split into various designations such as "Gold," "Certified," "Advanced," "Premier" and so on, channel managers still need a framework to help with their strategic planning and business growth strategies.
How can channel managers decide which partners will help them achieve growth targets for their partner program? Which partners should get more discretionary funding for channel marketing and which less?
To help channel management teams Ridge Consulting built a model to assist in these investment decisions. As the chart shows, they have created four archetypes to support decision-making: The Puppy, The Workhorse, The Caterpillar and The Butterfly.
According to Mike Kelly, Managing Partner, Ridge Strategy Consulting Ltd., "The cold reality is that all channel partners are equal, but some are more equal than others. Technology Vendors need a tool that their channel managers can use as part of their growth strategy for channel partners. We believe that this portfolio-matrix approach will help simplify this complicated decision."
More in-depth information and analysis about the "Channel Partner Growth Matrix" is available here: http://ridge-consulting.com/channel_partner_growth_matrix
About Ridge Consulting:
Ridge Consulting provides corporate strategy consulting to small and mid-size technology companies worldwide. With offices in the USA, Europe and Singapore, we provide technology vendors and their channel partners with workshops in digital co-marketing, business transformation and disruptive innovation.
Connect with the Author on LinkedIn: https://www.linkedin.com/in/mike-kelly-a64b2aa9/.