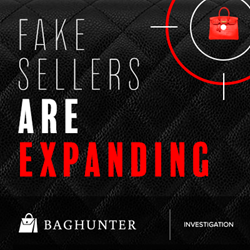 While the photo only authentication services may have good intentions, they are actually contributing to the sales of counterfeit bags by providing authentication certificates which add trust to listings of fake handbags
Beverly Hills, CA (PRWEB) March 20, 2017
An in-depth look into the Dangers of Buying a Hermès Birkin on eBay by ultra-luxury consignment service, Baghunter, has brought to light a range of serious hurdles faced by clients who seek the iconic bag on eBay and other online marketplaces. The article, which shows that counterfeits account for $500 billion of global imports, reveals some of the inventive methods used by untrustworthy sellers on eBay. It also looks into the rise of a parallel service of authenticating Hermès handbags listed on the auction website by photo only and why these services cannot provide sufficient evidence as to whether a bag is genuine or not by merely looking at a picture.
The increasingly cunning methods employed by untrustworthy sellers across online marketplaces include using pictures of authentic Hermès Birkin bags on fake listings and the purchase of 100% positive feedback accounts on the black market for use when selling counterfeit handbags. Another issue arises with online independent authentication services which offer a certificate of authentication based on photos of bags only. This method of authentication is open to many forms of abuse such as untrustworthy sellers sending stolen or edited pictures to receive an authentication certificate and then listing a replica bag with the accompanying certificate on eBay or another online marketplace. Adding to the risk is the impossibility of authenticating a Hermès handbag by photo only as intricate details are only verifiable when properly examined in person.
"The rise in fake Hermès handbags across online marketplaces is alarming and concerning for the many women who might only have the means to purchase one Hermès bag in their lifetime", said Baghunter CEO, Evelyn Fox, "While the photo only authentication services may have good intentions, they are actually contributing to the sales of counterfeit bags by providing authentication certificates which add trust to listings of fake handbags."
In an attempt to reduce the number of fake bags listed on its website, eBay has recently announced the launch of eBay Authenticate, a service for verifying purchases of luxury goods on the marketplace. However, the service is still in its infancy with limited details currently available about who will authenticate the items and the exact cost to the buyer or seller. In the meantime, it is highly recommended to conduct thorough research into the seller and listing before purchasing a Hermès bag on eBay and only to use verifiable and trusted retailers.
About Baghunter
Baghunter is an A+ rated BBB accredited business which buys, sells, and consigns ultra-luxury handbags and purses including brands such as Hermès and Chanel. Baghunter also offers an authentication service for every bag sold through the website, a Bag Bespoke service for customization of bags with Swarovski crystals or bespoke artwork, a Bag Concierge service to help clients find rare and unique handbags, and a VIP Club which offers benefits to avid purse collectors.