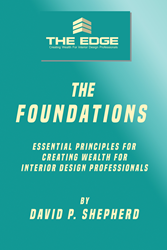 Understanding these basics added six figures to my bottom line over time.
(PRWEB) March 07, 2017
Interior design is one of the most complex business models to manage. Successful practitioners must balance time billing, merchandise sales, on-site installations and more.
For thirteen years, university professor and design business expert, David Shepherd, has been researching and analyzing what makes the difference between the top-performing firms in the industry and all the rest.
To educate and inspire new members in The Edge, David is offering a complimentary copy of his Special Report, "The Foundations: 7 Essential Principles for Creating Wealth for Interior Design Professionals."
"It really is possible to create a terrific living through interior design," said Shepherd. "I've worked with hundreds including sole practitioners and principals of firms up to twenty people. But it is also true that the vast majority never break through and end up creating little more for themselves than a hard-working job."
This Special Report is concise and hard-hitting. It includes chapters on:

A Mentality of Creating Wealth (Including the "cash flow hierarchy")
The Power of Pricing
Why 1% is HUGE!
Moving to the Front of the Bus!
Strategy is Everything
Simplicity
Moving From Clouds to Columns
"These principles have been responsible for designers adding thousands to their bottom lines," said Shepherd. "I really hope a lot of designers will take advantage of this limited time offer."
To claim the Special Report, designers simply need to join The Edge during March. They can join at http://www.designingprofits.com, and this offer includes the free level of membership as well as the higher paid levels. (Please allow 2-3 weeks for delivery of the Special Report in the mail.)