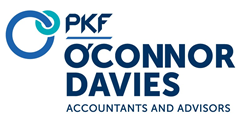 New York, NY (PRWEB) March 06, 2017
PKF O'Connor Davies, LLP, the nation's 26th largest accounting and advisory firm, announced today that Joseph Centofanti has joined the Firm as a Partner in the Government Services Division. With three decades in public accounting, Centofanti has significant experience in performing audits and various types of consulting engagements for governments, not-for-profits and commercial entities, including operational audits, internal control evaluations, fraud prevention and fraud investigations. Centofanti is a key addition as the firm continues to help its government and nonprofit clients stay ahead of ongoing regulatory changes and increased regulatory scrutiny.
"Joe's reputation in the industry and among clients as one of the most knowledgeable experts in fraud prevention makes him the perfect addition to our growing Government Services Division," said Kevin J. Keane, Managing Partner of PKF O'Connor Davies. "Joe knows the ins and outs of government and not-for-profit operations like no other, and he knows what it takes to help them run as effectively and efficiently as possible."
Centofanti is a frequent lecturer on fraud prevention and government accounting and reporting topics and serves as an adjunct professor of governmental accounting and auditing within the University of Connecticut's graduate program.
A testament to his professionalism and commitment to his clients, Centofanti has earned numerous professional designations, including:

Certified Public Accountant (CPA)
Certified Fraud Examiner (CFE)
Forensic Certified Public Accountant (FCPA)
Certified in Financial Forensics (CFF)
Certified Government Financial Manager (CGFM)
Certified Information Technology Professional (CITP)
Certified in Risk and Information Systems Control (CRISC)
In addition to his successful professional career, Centofanti volunteers as a long-time member and current chairman of the Town of Haddam, CT, Board of Finance and is President and Training Director of the Connecticut Association of Certified Fraud Examiners. He's also a member of the Government Finance Officers Associations of the United States, Canada and Connecticut and a member of the Connecticut Society of CPAs, where he serves on the Government Accounting and Auditing Committee.
"PKF O'Connor Davies really sets itself apart in terms of culture, reputation and its passion for providing clients with the highest levels of value," said Joseph Centofanti, Partner. "I was eager to join the Government Services Division and believe my deep understanding of the current issues facing State and local governments and how to address them will be of great value to our clients."
About PKF O'Connor Davies, LLP
PKF O'Connor Davies, LLP is a full service Certified Public Accounting and advisory firm with a long history of serving clients both domestically and internationally. With roots tracing to 1891, nine offices in New York, New Jersey, Connecticut and Maryland, and more than 600 professionals, led by over 100 partners, the Firm provides a complete range of accounting, auditing, tax and management advisory services.
PKF O'Connor Davies is ranked number 26 in Accounting Today's 2016 "Top 100 Firms" list and the Firm is also recognized as a "Leader in Audit and Accounting," a "Pacesetter in Growth" and one of the "Top Firms in the Mid-Atlantic." PKF O'Connor Davies is ranked number 29 in INSIDE Public Accounting's 2015 "Top 100 Firms" list and recognized as one of the "Top Ten Fastest-Growing Firms." In 2016, PKF O'Connor Davies was named one of Vault's Accounting 50, a ranking of the 50 best accounting employers to work for in North America, and ranked among the top 50 most prestigious accounting firms in America in a complementary Vault survey. The Firm is the 11th largest accounting firm in the New York Metropolitan area, according to Crain's New York Business, and was named the 10th top accounting firm in New Jersey according to NJBiz's 2016 rankings.
By consistently delivering proactive, thorough and efficient service, PKF O'Connor Davies has built long-lasting, valuable relationships with its clients. Partners are intimately involved in the day-to-day management of engagements, ensuring a high degree of client service and cost effectiveness. The Firm's seasoned professional staff members employ a team approach to all engagements to provide clients with the utmost quality and timely services aimed at helping them succeed. Continuity of staffing and attention to detail in all client engagements make the Firm stand out among its competitors.
PKF O'Connor Davies is the lead North American representative of the international association of PKF member firms. PKF International is a network of legally independent member firms providing accounting and business advisory services in 440 locations in 150 countries around the world. With its tradition, experience and focus on the future, PKF O'Connor Davies is ready to help clients meet today's ever-changing economic conditions and manage the growing complexities of the regulatory environment. For more information, visit http://www.PKFOD.com.