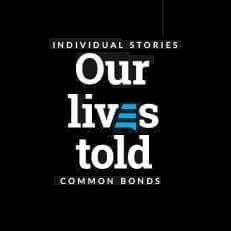 If we simply take the time to understand someone's story, we may in fact find something in common with them.
Washington, DC (PRWEB) March 07, 2017
Decades ago, renowned author Madeleine L'Engle noted that "stories make us more alive, more human, more courageous, more loving." Now, a unique online storytelling platform called Our Lives Told has brought this profound observation to life in a fresh, interactive, therapeutic and simple new way.
Designed for people from all walks of life and demographic backgrounds, Our Lives Told invites users to share their personal story by answering five straightforward questions:

What is your first name, and does your name have any significant or sentimental meaning?
What is your background/heritage and why is it important to you?
What is the most challenging experience you have faced or are currently facing, and how did you/are you facing that challenge?
What do you think will make the world a better place, and what role can you play?
What do you wish others would know about you that they cannot tell on the surface?
There are no incorrect answers, and users can respond in a few words, sentences or paragraphs. In addition, they can attach an image, which could be a landscape scene, artwork, picture of themselves, or anything else. They can also access the platform's "Montage" section and enhance their personal story by drawing words on a canvas with an easy-to-use online graphics tool.
To tell their story, site visitors click on the blue Tell Your Story button at the top of the page and answer five questions, then submit. Once their submission is published, others users can read and reply, which adds an organic and interactive quality to the storytelling journey. And while Our Lives Told allows users to remain anonymous in order to facilitate sharing and openness, the platform's editorial team monitors all submissions and comments to ensure that the experience is supportive and positive for all users.
"There is a two-fold effect to the concept of sharing life stories," commented Founder Kifle. "Firstly, when we seek to connect with each other, we increase our empathy and knowledge, while we reduce our prejudices, fears, anxieties and assumptions. Secondly, storytelling is widely understood to have a therapeutic impact, and can foster coping, growing and healing."
Continued Kifle: "After years of caring for my father, when he passed away from lung cancer last year I really didn't have an outlet to express my pain. I also realized how helpful it would be to connect with others who understood what I was feeling. That's why I created Our Lives Told. Whether the personal story that people with to share is one of grief, such as the death of a loved one or another kind of devastating loss or illness, or it is one of joy, such as the birth of a child or finally finding one's soul mate or dream job, Our Lives Told is a safe, supportive meeting place for sharing and learning from others."
There is no cost to access Our Lives Told, and users do not have to register in order to read contributions from others. Learn more at http://ourlivestold.com/about.
About Our Lives Told
Our Lives Told is a platform to share personal life stories. The hope is that in telling these stories, with responses to five questions encompassing who we are and what we embody, we, as citizens of the world, may find more in common or gain a better understanding or appreciation of each other.
There is a twofold effect to the concept of sharing life stories. Firstly, it is through this taking the time to understand and knowledge is gained and fear, prejudice, pain and assumptions lessen over time. Secondly, a therapeutic effect may be experience resulting in a greater understanding of oneself, and learning to cope with challenging life experiences should you be in one.
Follow Our Lives Told on:
Twitter at https://twitter.com/ourlivestold
Instagram at https://www.instagram.com/livestold/
Facebook at https://www.facebook.com/ourlivestold/
Pinterest at https://www.pinterest.com/ourlivestold/