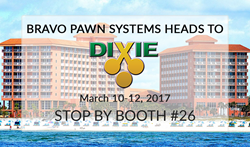 "At Bravo, we strive to provide pawnbrokers with the tools they need to evaluate merchandise, communicate with customers, and ultimately grow revenue," said Tally Mack, CEO of Bravo. "Our new products and updates will help them do exactly that."
Las Vegas, NV (PRWEB) March 06, 2017
The weekend kicks off with a CPP Course on Federal Regulation at 8:00 am on Friday, March 10. The exhibits open on Saturday, March 11 at noon.
At Dixie, Bravo is excited to debut Purchase Orders, their new retail product which was released in late February. Purchase Orders helps pawnbrokers control inventory stock and keep track of vendor orders for restocking. It also allows pawnbrokers to keep track of SKUs and prompts stores when it is time to reorder.
Bravo also recently added new functionality to the industry's first and only Digital Marketing Platform. The way that people shop and buy continues to change, which means the way pawnbrokers market and sell must evolve too. The addition of email integration to the Digital Marketing Platform helps pawnbrokers deliver personalized and targeted information about store updates, store sales, loans to be paid, and upcoming layaway payments. Messages can be scheduled to be sent immediately or on a different day, giving operators the freedom to prepare ahead of time.
If you are heading to the Dixie Convention, stop by booth 26 to meet fifth generation pawnbroker and Bravo CEO, Tally Mack, as well as speak with Bravo users from Dan's Discount Jewelry and Pawn.