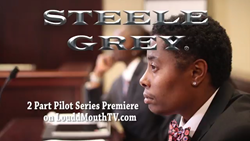 "The Law Will Never Be The Same..."
Atlanta, Georgia (PRWEB) March 07, 2017
A powerful and groundbreaking new character driven original series Steele Grey, is an epic drama digital web series of a successful black androgynous female criminal attorney that is disbarred in Georgia for losing control during a controversial hate crime case involving the tragic death of a transgender middle age woman. Executive Producer, show creator, writer and Director S. Sonny Jones-Smith who also portrays the leading character, Steele Grey, opens up the two part pilot episode in a small fictitious town called Justice County in Georgia, during the height of a intense court case. Each episode also looks to tackle, authentic storylines of real life difficult subject matters and the characters connection in navigating through them, such as mental illness, domestic violence, HIV & AIDS, PTSD, gun violence and much more, unfolding in various cities.
Media Influencer GLAAD publishes an annual media report requesting for industry prime time and streaming content creators to cast more women, transgender and people of color that identifies LGBTQ to portray more leading and supportive roles of LGBTQ characters. "Steele Grey addresses the ongoing dilemma for more diversity and higher representation in the industry for LGBTQI actors," states executive producer, Sonny Jones-Smith.
"The conceptualization of this project has taken almost 4 years to materialize from idea to character and plot development, to pitching to investors and media partners that were willing to take a gamble and follow my dreams.That gamble paid off by aligning talented entertainers, seasoned and inexperienced actors and amassing a production team willing to work with a very tight limited production budget," says Jones-Smith.
Building from the positive momentum of screening the pilot episode of Steele Grey two weeks ago at the Historic Royal Theatre on February 25th in St. Petersburg, Florida during the 2nd Annual Black Arts & Film Festival, provided Sonny an direct opportunity to receive feedback from the public. The pilot episode was shot in surburban Atlanta and the neighboring city of Stockbridge, Georgia, which is also will be the host city of the Steele Grey Red Carpet Screening of the Series on Thursday March 9th, 2017 at 8pm at Seven Sports Bar & Lounge located at 3570 Georgia 138 in Stockbridge.
Get your RSVP Ticket for Screening Here: http://ow.ly/B9kW309EaO9
With the completion of the pilot episodes, and multiple local screenings, Sonny hopes to build on the success of multiple screenings further promoting the online premiere of the Pilot on http://LouddMouthTV.com this Friday March 10th, 2017.
LouddMouthTV is gearing to raise $125,000 with a Steele Grey crowdfunding campaign on Indiegogo due to launch after the online premiere, to further fund the remaining 10 episode production. Locations are set to be shot in Metro Atlanta and Savannah, Georgia, St. Petersburg/Clearwater Florida as well future production in international locations in Canada, London, Strasbourg, France, Germany & Thailand to wrap production by the end of the summer of 2017.
To Connect & give to Indiegogo Campaign Click Here https://igg.me/at/steelegreywebseries.
Indiegogo Search: Steele Grey - An Original LouddmouthTV Web Series
Check out additional clips and teasers as well as the Official Steele Grey Trailer online on YouTube.com/LouddMouthTV Channel as well as full episodes will be placed on the online network TV website http://LouddMouthTV.com
Follow on facebook.com/louddmouthtv