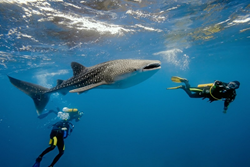 a whale shark adventure has become easier than ever
San Ignacio, Belize (PRWEB) March 08, 2017
What do some of the largest creatures to ever inhabit the earth and today's adventurous travellers have in common?
Belize.
According to The Lodge at Chaa Creek, both whale sharks and humans are attracted to the crystal clear waters of Belize's unspoiled Caribbean coast, and between April to July 2017, during the annual whale shark migration, the popular Belizean eco-resort is once again offering to bring the two species together.
Whale sharks, one of the most magnificent creatures to ever inhabit the Earth, and the largest fish in the sea, make an annual pilgrimage to Belize to take advantage of a yearly fish spawn in the shelter of the world's second largest barrier reef while enjoying a break from roaming the seas.
And for travellers looking for a break from humdrum holidays and "more of the same" vacations, Chaa Creek is advising that they book now for a rare opportunity to experience the annual whale shark gathering at Gladden Spit that occurs between the months of April to July, according to marketing administrator Roberto Harrison.
"Because Belize's Caribbean coast is sheltered by the world's second largest barrier reef and is relatively free from pollution and development, it's one of the best places on earth to observe these gentle giants in their natural habitat. The area has been attracting whale sharks for as long as anyone can remember, and the crystal clear warm waters make swimming and watching them an exciting and very enjoyable experience for people of all ages," Mr Harrison said.
"And with our extensive network of colleagues and partner resorts on Belize's Caribbean coast, combined with recent improvements in domestic air travel, a whale shark adventure has become easier than ever," Mr Harrison said.
"However, due to the growing popularity of Belize's whale shark migration, the limited number of people the tours can accommodate, and the narrow time frame for observing this natural wonder, people should seriously consider booking now to avoid disappointment," he added.
Three or four days before and after the full and new moons in April and May are the best times to see whale sharks, with the Gladden Spit area (about 26 miles off the coast of Placencia), a favourite spot for the voracious world travellers, who gather in large concentrations when Belize's Mutton and Dog Snappers are spawning.
Chaa Creek is offering several ways to enjoy the yearly Whale Shark Adventure, which traditionally peaks during April and May, and extends into June and as late as July, Mr Harrison explained.
Guests may add a whale shark option onto all-inclusive Belize vacation packages that take guests from ancient Maya temples and inland rainforests to Belize's Caribbean coast with stays at Chaa Creek's Caribbean partner resorts, or book a whale shark tour while staying at Chaa Creek, or have the eco-resort arrange a dedicated whale shark vacation.
"We have colleagues in the villages of Placencia, Hopkins and other locations along the coast near the prime whale shark locations who give us daily reports of whale shark sightings and movements. When guests express a desire to see whale sharks, we get in touch with our friends and, with our transportation network, get visitors out there quickly and efficiently.
"Fortunately, Tropic Air's Maya Flats airstrip is literally at our front door, so to get from here to the Placencia airstrip is a breeze. " Mr Harrison explained.
At Chaa Creek, guests enjoy eco-luxe lodging and a range of amenities that include a restaurant and lounge featuring farm-to-table dining sourced from the onsite Maya organic farm and fresh seafood from Belize's Caribbean Sea, an infinity pool, Hilltop Spa, the Belize Natural History Museum, butterfly farm, Maya medicinal plant trail and activities including canoeing or tubing the Macal River, horseback and mountain bike riding and nature walks along miles of trails crisscrossing the eco-resort's 400 acre private nature reserve. An extensive menu of tours and excursions to ancient Maya temples and cities such as Tikal and Caracol is also offered.
The new Ix Chel luxury Villas that come with a personal butler and feature expansive private verandas with their own plunge pools, Jacuzzis, al fresco showers and other luxurious appointments are now available, Mr Harrison said.
"With everything we offer, Chaa Creek has earned the reputation as Belize's 'destination Within a Destination', and now, with ready access to one of the greatest sights on Earth, it's also the whale shark destination of choice," he said.
"All guests need to do tell us that they wish to experience the whale shark migration, be prepared to book a vacation between April to June and sometimes July, and we'll work with them to create a once in a lifetime experience they'll remember forever."
Relatively unchanged over the last 60 million years and larger than a school bus, often mistaken for a whale due to its size and docile nature, the whale shark, or Rhincodon typus, is a true shark, and the world's largest fish, with a recorded length of 12.65 m (41.50 ft) and weighing more than 21.5 metric tons (47,000 lb), although larger specimens have been reported.
Belize joins Madagascar, South Africa, Australia, Mozambique, Indonesia and the Yucatan as one of the few locations to host regular whale shark migrations.
"To be able to combine a whale shark adventure with a pristine jungle vacation exploring ancient Maya temples while enjoying luxurious amenities, exquisite dining and a choice of healthy activities is as unique as it is exciting, and something we're proud to be able to offer," Mr Harrison said.
"However, again, early booking are essential to avoid disappointment and to secure the best chances for seeing these magnificent creatures, and I encourage people to contact their travel agents or Chaa Creek directly for more information and to make reservations," he added.
The Lodge at Chaa Creek is a multi award winning eco resort set within a 400-acre private nature reserve along the banks of the Macal River in Belize.