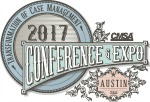 (PRWEB) March 06, 2017
Early bird pricing ends March 31st for CMSA's 27th Annual Conference & Expo in Austin, TX, June 26-30, 2017. The chance to attend the only case management conference that stretches across the entire healthcare continuum at the most affordable price will be valid only for a few more weeks.
Installment plans for payment are still available for the sole health care event designed to deliver clinical, professional, regulatory and personal growth for care management professionals. Taking place at the Austin Convention Center in one of the most eclectic cities in the country, the conference features several new elements including the return of DoD/VA Military Day, enlightening keynotes, unique pre- and post-conference sessions, and exciting destination events.
This year's content focuses on how the transformation of case management has affected every element of the profession. Concurrent and poster presentations provide a variety of continuing education opportunities, with a focus on helping attendees investigate the transformation of case management programs in the hospital, long term care, workers' compensation, community health programs, patient centered medical homes and other practice settings.
In addition, sessions will enable attendees to address the need for leadership in a population health model, including specifics on how to empower case managers, colleagues and peers through the areas of education, practice, mentoring and experience. Tactics will be given to help them analyze the building of care teams and what those changes mean across the continuum of care, and for the entire care team. Attendees will also discuss collaborative strategies and successful initiatives for improving practice in various settings using data to demonstrate impact and/or outcomes. Finally, the content will examine and describe current and emerging advancement in technology and innovations, how they improve treatment adherence and elevate the practice of case management.
The 2017 event is expected to welcome nearly 2,000 convention attendees and healthcare professionals to the conference. Over 200 companies will welcome attendees at CMSA's 2017 Expo, providing information and demonstrations regarding the most current products and services. Attendees will part with new resources and connections that will advance their abilities to recommend and implement the latest technologies when they return to their practice.
This year's keynote presentations feature Dr. Mary D. Naylor who will present, "Transforming the Course: Enhancing the Patient Care Team for Optimal Transitions in Care." Dr. Stuart Robertshaw, A.K.A Dr. Humor, will provide valuable information while also entertaining the audience. The conference will close with motivational speaker, Jonathan Mann.
CMSA continues to provide the industry with the best value for continuing education credits. The conference provides for the professional case manager to create their own unique experience through educational content, resources, exhibits, technology, public policy, cultural excursions and peer-to-peer networking.
With the best value cost per CE credit, installment plans for payment available, early bird pricing, exciting giveaways and more, CMSA's 27th Annual Conference & Expo is not to be missed. Learn more and register for at cmsa.org/conference.
About the Case Management Society of America (CMSA)
Established in 1990, the Case Management Society of America is the leading non-profit association dedicated to the support and development of the profession of case management. CMSA serves more than 30,000 members, subscribers and participants, and 75 chapters through educational forums, networking opportunities, legislative advocacy and established standards to advance the profession. For more information, visit http://www.cmsa.org or follow CMSA on Twitter @CMSANational