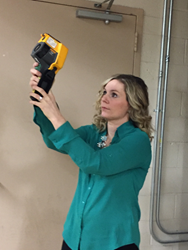 "Her diligence and precision has saved us money by ensuring that we aren't wasting resources," said Dr. Adam Robinson, Jr. director of the VA Maryland Health Care System
BALTIMORE, Md. (PRWEB) March 06, 2017
Whitney Burger, an energy engineer at the VA Maryland Health Care System, has been selected as the Department of Veterans Affairs Energy Engineer of the Year by the VA Office of Construction and Facilities Management. Burger is responsible for keeping the health care system's energy consumption efficient and its engineering and construction practices compliant with all relevant codes and standards.
"We're lucky to have Whitney Burger on our team at the VA Maryland Health Care System" said Dr. Adam M. Robinson Jr., director of the VA Maryland Health Care System. "Her diligence and precision has saved us money by ensuring that we aren't wasting resources."
Burger began her career at the VA Maryland Health Care System in 2004 as a Technical Career Field intern and joined the staff in 2005. Since becoming the energy engineer in 2007, Burger has taken the lead role in numerous projects, including upgrades and replacement of heating, ventilation and air conditioning (HVAC) systems on multiple campuses, modifying the operating strategy for the chiller plant, and securing utility rebates upwards of $400,000 by completing various energy projects and system upgrades.
"Whitney has developed a good rapport with all the maintenance technicians to pinpoint building, mechanical and plumbing failures that can result in unnecessary spending," said Richard Crumley, chief of the Facilities & Engineering Service at the VA Maryland Health Care System. "Her internal and external customer service is unparalleled and we continually receive compliments and high reviews thanks to her commitment and dedication."
"I try to continuously monitor and analyze the heating, air conditioning, and ventilation systems as well as building controls, water, and steam distribution to see how things are working and where we can reduce consumption, either by completing in-house maintenance and repair, implementing modified operating strategies, or investing in complete or partial system upgrades. It's looking at everything, including renovations and new construction to see what changes can improve efficiency," said Burger, who credits much of her success to some of the skilled maintenance technicians who work closely with her to monitor and report issues before they become problems and make repairs in a timely manner. She also develops timely repair plans, and directs and implements changes in the health care system's HVAC systems.
"She routinely goes above and beyond her job duties by acting as the building automation system administrator and has taken complete responsibility for the digital control system that was implemented at the Baltimore VA Medical Center," said Crumley.
Burger earned her engineering degree from West Virginia University in 2004, graduating cum laude. She lives in Pennsylvania with her family.
# # #
The VA Maryland Health Care System (VAMHCS) provides a broad spectrum of medical, surgical, rehabilitative, mental health and outpatient care to veterans at two medical centers, one rehabilitation & extended care center and five outpatient clinics located throughout the state. More than 52,000 veterans from various generations receive care from VAMHCS annually. Nationally recognized for its state-of-the-art technology and quality patient care, VAMHCS is proud of its reputation as a leader in veterans' health care, research and education. It costs nothing for Veterans to enroll for health care with the VA Maryland Health Care System and it could be one of the more important things a Veteran can do. For information about VA health care eligibility and enrollment or how to apply for a VA medical care hardship to avoid future copayments for VA health care, interested Veterans are urged to call the Enrollment Center for the VA Maryland Health Care System, Monday through Friday, from 8 a.m. to 4:30 p.m. at 1-800-463-6295, ext. 7324 or visit http://www.maryland.va.gov.