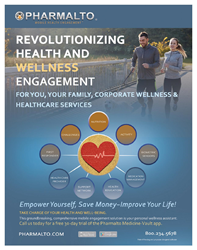 We are on the forefront of helping people of all ages make their health and wellness a priority, said Diane Mitchell, executive vice president, marketing & sales of Pharmalto.
Plano, Texas (PRWEB) March 08, 2017
Pharmalto, a leading-edge SaaS provider of mobile health and wellness engagement solutions, has been recognized as one among the elite group of companies that are featured in the Healthcare edition of CIOReview magazine.
A distinguished panel comprising CEOs, CIOs, analysts and the CIOReview editorial board selects the "Top 20" to help CIOs find the right healthcare solution provider. Pharmalto is acknowledged for providing Mobile Health Engagement™, an innovative patent pending mobile health and wellness engagement solution.
"Pharmalto has been chosen based on its expertise in providing innovative healthcare solutions and the ability to engage people in their health and delight customers by facilitating strategic relationships, services and value of investment," said Jeevan George, Managing Editor of CIOReview. "This recognition will bring more visibility to Pharmalto and positive attention from the health and wellness industry."
"We are honored to be included among this prestigious group of healthcare solution providers," said Diane Mitchell, executive vice president, marketing and sales of Pharmalto. "We are on the forefront of helping people of all ages make their health and wellness a priority."
Pharmalto's Mobile Health Engagement™ is designed to help individuals and their loved ones better engage in their health. Pharmalto's solution aggregates a person's comprehensive medical, wellness and biometric data into a portable and expandable platform with an open API that facilitates third party integration. "The flexibility of our platform design allows standalone and integration applications in the corporate health and wellness space and healthcare," said Charles Neagle III, M.D, founder and president of Pharmalto.
The architecture creates a lifelong personal health record and improves health information exchange among providers and healthcare systems. The Pharmalto solution encourages people to become involved, learn about health and use this information to improve health, well-being and quality of life.
Read CIOReview's featured article about Pharmalto: http://healthcare.cioreview.com/vendor/2017/pharmalto
About Pharmalto
Pharmalto's innovative Mobile Health Engagement solution aggregates the many facets of health and wellness into a smart device application accessible 24/7. Optional connectivity to health care providers and First Responders facilitates everyday Telehealth, pre-emptive intervention, population health screening and emergent assessment and treatment. Improved health and wellness engagement results in a healthier individual, productivity gains and cost savings. Pharmalto's mission is to help people live healthier, happier and more productive lives by connecting, empowering and instilling lifelong health engagement. Learn more by calling 800-261-9671 or visiting http://www.pharmalto.com.
About CIOReview
Published from Fremont, California, CIOReview is a print magazine that explores and understands the plethora of ways adopted by firms to execute the smooth functioning of their businesses. A distinguished panel comprising of CEOs, CIOs, IT-VPs including CIOReview editorial board finalized the "20 Most Promising Healthcare Solution Providers 2017" and shortlisted the best vendors and consultants. For more info, visit: http://www.cioreview.com