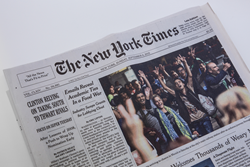 Analysis of 1,352 Times Magazine pages indicates up to 28 of 30 "text and word" editors may be surplus.
Naples, FL (PRWEB) March 08, 2017
A detailed analysis of 18 weekly issues (1,352 total pages) of the New York Times Sunday Magazine indicates it likely has a surplus of editors, says Leslie Norins, MD, PhD, a 40-year veteran publisher of newsletters for healthcare professionals. His study is published on Analizir.com.
Dr. Norins, who says he has been a "loyal subscriber" to the Times for four decades, said his curiosity was aroused in the summer of 2016, when he read of staff cutbacks at the Times, but noticed that the number of names in the masthead (the listing of key staff) of his Magazine issue seemed high. He decided to gather data, and collected weekly issues until the end of 2016., eighteen in all.
The final issue analyzed, December 25th, had 66 pages, and 46 "editors" were displayed in its masthead. There were 30 "editors" who could examine text, plus 13 photography/art/design editors, and 3 production editors.
Of the 1,352 pages of the accumulated issues, Dr. Norins classified 578 as "long article" pages. But not all these needed text-editing, because 294 were taken up by photos or graphics—which have their own editors. That left 284 pages of text to be edited. Dividing this by the 18 issues yielded an average 15.7 pages of "long article" text to be edited per weekly issue.
Thus, in a 40-hour work week a lone editor could spend up to 2.5 hours editing each "long article" text page, and single-handedly prepare that portion of the weekly issue. So, he asks, why are there 30 editors who can work with text?
Dr. Norins believes that all Times staff are professional, but theorizes their time has been usurped by creeping distractions and excessive deliberations. He also cites Parkinson's Law: "Work expands to fill the time allocated for its completion."
Dr. Norins concludes by proposing a zero-based budgeting scenario, wherein the Magazine is restructured to utilize only a "Magnificent Seven" of staff.
Dr. Leslie Norins has a 40-year publishing career, successfully creating and growing over 80 healthcare subscription newsletters. He received his AB from Johns Hopkins University, his MD from Duke Medical School, and his PhD from University of Melbourne, where he trained with Sir Macfarlane Burnet, Nobel Prize-winner.
Analizer.com (http://www.analizir.com) is an independent website presenting analysis and commentary, and is a unit of Medvostat, LLC. Dr. Norins is its founder and publisher.