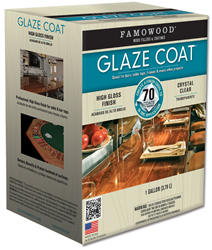 Gallon Kits of FAMOWOOD Glaze Coat Epoxy Coating now available at The Hardware City's Online Store.
Farmers Branch, Texas (PRWEB) March 07, 2017
TheHardwareCity.com expands its online home improvement and craft projects product lines with the addition of the gallon kit of FAMOWOOD Glaze Coat epoxy coating. Formulated to be used on most surfaces, this pour-on epoxy coating can be used to coat tables, bar tops, preserving photographs or embedding decorative items.
"The Hardware City is adding more DIY and crafting products to our online store. The addition of FAMOWOOD Glaze Coat offers our customers an easy to use coating that minimizes costs and time spent to complete projects," said Sumesh Bhagat, of TheHardwareCity. "For instance, just one coat equals 70 coats of varnish, can be used indoors and is self-leveling so minimal spreading is required."
FAMOWOOD Glaze Coat is ultra clear, may be used on a variety of surfaces: smooth or rough, stained or painted and resists temperatures up to 120 °F. Some decorative items that can be embedded include coins, rocks, sea shells & flowers. Also can be used to preserve photographs and coating signs and picture frames.
For more information on FAMOWOOD Glaze Coat Epoxy Coating, visit the product page: http://www.thehardwarecity.com/products/5050110-1g-Famowood-Glaze-Coat/6315378
The Hardware City is an online hardware store offering high quality tools and hardware items at reasonable prices. Headquartered in Farmers Branch, Texas, the online enterprise is dedicated to helping consumers select the best quality tools and hardware for their various projects.
TheHardwareCity.com is a leader in home improvement supply. Since 2007, the online hardware store has expanded and grown to include thousands of innovative products. Products from every department are included in their catalog, from electrical to bath accessories. Experts are available to answer questions about any product through the website's online chat or by phone. Visit http://www.thehardwarecity.com/ to view the latest in home improvement products and to take advantage of the company's low prices.