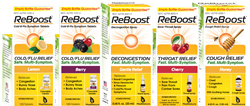 Together, you and ReBoost can save the bees, and make a life sweeter for beekeeping families around the world!
Berwyn Wayne, PA (PRWEB) March 08, 2017
The world bee population is down a staggering fifty percent due to pesticides, parasites, and colony collapse disorder1. MediNatura™ is partnering with consumers and Heifer International to help save the bees.
For every thirty dollars that consumers donate, Heifer International equips one poverty-stricken family with the training and supplies necessary to become beekeepers. The program not only helps save the bees but also enables struggling families around the world to become more economically self-sufficient.
Donate today on the Heifer International website – and MediNatura™ will join you2. MediNatura™ will match consumer donations, enabling a second family to become beekeepers. Through the program, donors are doubling the power of their contribution.
For more information on the program, see the package of MediNatura's ReBoost™ Cough Syrup, which uses natural honey for flavor.
Many OTC medicines have negative side effects. Decongestants can make you hyper or keep your awake at night. Antihistamines can make you drowsy during the day. They can also thicken mucus, which can be a problem for asthma sufferers. Both may mix poorly with other drugs, such as heart disease medications, and can worsen conditions, such as high blood pressure.
For the millions of Americans who turn to over-the-counter (OTC) medicines for relief every year, ReBoost™ nasal spray, throat spray, tablets, and cough syrup use natural medicines 3 that do not cause drowsiness or jitteriness. They can also be safely used with other cold and flu products and have no known drug-to-drug interaction with other medicines. Get the relief you need without unwanted complications.
MediNatura™ also recently launched ReBoost™ cold & flu Tablets with new organic and natural flavors, to help you recover faster while maintaining a deliciously natural approach.
About MediNatura™ Inc.
MediNatura™ specializes in prescription and over-the-counter pharmaceuticals made from natural medicines. It is headquartered in greater Philadelphia and manufactures safe efficacious medicines in New Mexico. You can reach MediNatura™ toll-free at 1-844-633-4628 Monday through Friday from 8 a.m. to 5 p.m. MST or visit http://www.MediNatura.com.
1.http://sos-bees.org/
2.Medinatura™ Inc. will match donations to Heifer International up to $15,000 through July 15, 2018, with a minimum guaranteed donation of $5,000
3.Reboost™ products contain 25 Natural Active Ingredients (of 31 Actives, See packaging)
These statements have not been reviewed by the Food and Drug Administration. They are supported by traditional homeopathic principles