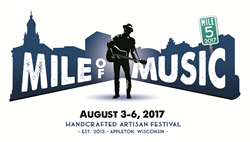 We try to make the festival experience the best one possible for our artists and have come up with some really creative, yet practical ways to do that.
Appleton, WI (PRWEB) March 07, 2017
With planning underway to line up some top-notch emerging talent for Mile of Music when it returns August 3-6, 2017, preparation for the "Artist Care" program is also in the works. Festival organizers have announced that Romenesko Family Dentistry has again signed on to offer complimentary dental care to artists.
This unique service was first offered in 2016 as an extra perk to musicians traveling to Appleton from around the country to perform, and was so well-received that organizers immediately knew it was something they wanted to bring back. "We try to make the festival experience the best one possible for our artists and have come up with some really creative, yet practical ways to do that," said Dave Willems, festival co-founder and marketing executive.
Romenesko Family Dentistry has been involved with the festival since it first started in 2013, and the clinic was eager to expand its role last year to provide this care. "Our community has been incredibly supportive since the festival launched, and it's because of generous sponsors like Romenesko Family Dentistry that Appleton has become known as such a welcoming tour stop," Willems explained. "To us, the artists are individuals with unique stories to share and not just another act brought in to help us stage a festival. We want them to feel appreciated."
In providing the free dental care, Romenesko Family Dentistry reached out to artists and blocked off time at its Appleton clinic in anticipation of the appointments to be scheduled. "We weren't quite sure what to expect for participation and wound up filling all time slots, opening several more and recruiting another dentist from a different location to lend a hand," said Dr. Ben Romenesko, DDS, with Romenesko Family Dentistry.
The dental clinic provided Mile of Music artists with nearly $25,000 worth of services at no cost last summer. Some appointments included basic cleanings and exams, while others involved X-rays and more extensive work such as multiple fillings. It was a family effort which included care provided by Dr. Ben, Dr. Rick Sr., Dr. Rick Jr., Dr. Jeff and Dr. Michael Romenesko.
"Whether it's a busy schedule on the road, lack of coverage or other cost restraints, a lot of artists simply don't have access to the necessary care," Dr. Ben Romenesko shared. "I loved the idea of using our training to help fill that gap and contribute to such a worthy cause in the community," he said. The clinic staff went beyond identifying any tooth-related problems and also did the work to fix them. "If that meant scheduling the artists to come back for a separate appointment with a longer block of time, we made it happen," Dr. Ben Romenesko explained.
Along with dental care, Mile of Music facilitates many other services for the artists while they are appearing at the festival, including partnerships with local businesses who provide lodging accommodations, photo shoots, massage therapy and physical therapy. There is also a major emphasis on hearing screenings as Dr. Stephanie Long, AuD, of About Better Care Audiology, provides these evaluations at no charge.
"These things are definitely appreciated as we hear from a lot of performers who ask about returning to Mile of Music," Willems said. Dr. Ben Romenesko added, "I have never met a more grateful group of people. Providing this care was, by far, the best professional experience of the year for me. We are excited for 2017!"
About Mile of Music
The Mile of Music is an artisan, all-original music festival that kicked off in August 2013. In its first four years, the festival has quickly flourished. It brought 240 bands and solo artists to Downtown Appleton in 2016 alone, with 900 live music sets performed. The collaborative event was co-founded by Appleton marketing executive Dave Willems and Appleton/Nashville-based national recording artist Cory Chisel, with support from more than 100 community organizations and sponsors as well as 300 volunteers. For more information and to download the app, visit http://www.mileofmusic.com.