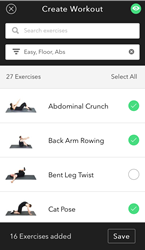 With our Workout Builder and Custom List, you can build new workouts, customize existing workouts, or import workouts made on other programs
Chicago, IL (PRWEB) March 07, 2017
Sworkit, the popular fitness app used by millions globally, has just launched the Sworkit Workout Builder—a new feature that allows users to plan the perfect workout for their lifestyle.
Recognized for providing its users with personalized video workouts that can be done anytime, anywhere, without equipment, Sworkit offers one of the most flexible workout platforms in the industry.
They are now making it even easier to get that personal trainer experience from the palm of one's hand with their Workout Builder.
"Other apps let you favorite your workouts into a list, but we've taken it a step further," said Sworkit CEO Ben Young. "With our Workout Builder and Custom List, you can build new workouts, customize existing workouts, or even import workouts made on other programs."
The new feature is completely unique to Sworkit, and previously unheard of in the industry.
It gives users the power to filter their workouts by difficulty, category, stance, impact level, and focus area, along with the ability to share their workouts with others.
With all of this information at their fingertips, users are better able to make an informed decision that's just right for their fitness needs, goals, and limitations.
Users simply pick the exact exercises they want, building their perfect workout from the ground up.
"We had users coming to our trainers asking for easier exercises, harder exercises, exercises to reduce the impact on their knees, and much more," said Young. "Launching this feature was the next logical step to addressing their needs."
Those using the free version of the app will be able to design and save one custom workout, whereas Premium subscribers will be able to save an unlimited amount.
Sworkit Premium is available with a free 7-day trial.
The Sworkit app is free to download and has free fitness offerings including strength, stretching, cardio, yoga and pilates video exercises demonstrated by real trainers.
About
Nexercise launched Sworkit in 2014 to deliver on-demand, video exercise programs that can be done anywhere, anytime. Its development team is made up of an ACSM certified personal trainer, US Army Reserves captain, and software developer, whose unique backgrounds gave them insight into every facet of the fitness industry.
Sworkit has been featured on ABC's Shark Tank, as well as in Lifehacker, Women's Running, Gizmodo, Mashable, In Touch, Brit+Co, Elle Magazine, Shape, Parents Magazine, and more, and received the DC TechDay Techie Award for Best in Health Tech in 2014.