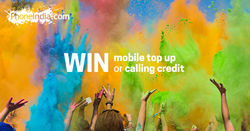 Been with them for several years, no issues ever. I would recommend this company to anyone. (Chander on Trustpilot.com)
Atlanta, Georgia (PRWEB) March 07, 2017
PhoneIndia.com Facebook community hosts a new contest this Holi: "Your Holi message to the world." Indians in the diaspora are expected to leave a comment starting March 9 until March 14, and get the chance to choose the prize they want: a free top up to a mobile in India, or $10 Voice Credit to call any destination in the world. Anyone can join the race in the Indian expat community on Facebook: https://www.facebook.com/search/top/?q=Phoneindia.com&opensearch=1
The contest invites visitors and fans on PhoneIndia.com Facebook page to leave a Holi message to the world. Comments are expected between March 9-14, and the winner will be selected randomly on March 15, 2017 on Facebook: https://www.facebook.com/search/top/?q=Phoneindia.com&opensearch=1
Organizers from PhoneIndia.com confess to be very impatient to reconnect with the Indian diaspora, just like last year, when the community shared most colourful pictures, and could "meet" face to face online. This year, they expect a variety of messages and approaches from Indian expats, since Holi is not only a spring festival, but also the festival of love, a celebration of the good conquering the evil, the arrival of spring, end of winter, and for many a festive day to meet others, play and laugh, forget and forgive, and repair broken relationships, and is also celebrated as a thanksgiving for a good harvest.
The prize of the Holi contest of 2017 is very flexible. The person whose comment wins can choose between $10 Voice Credit that never expires, or a top up prize to someone in India.
$10 Voice Credit can be used for 800 minutes to call India landlines and mobiles, or different destinations in the world at the rates on the website.
Voice Credit can be used to call India landlines and mobiles whenever necessary, without the hassle of a calling card. The regular rate to call India using Voice Credit balance is 1.2 cents per minute. The lowest rate though is 0.7 cents/minute, which is available on PhoneIndia.com with India 1400 or India 3000 monthly plans. It is the lowest rate on the global market, and no hidden fees apply.
The Voice Credit balance never expires and the service comes with a series of free features, and 3 ways to make international calls to India. For international calls one can use:
-any phone and an access number available on the website, without any WiFi, 3G or 4G.
-any computer and the Web Call desktop application available in one's account, without any download
-any iOS or Android smartphone that has KeepCalling app installed.
The other prize option, Mobile Recharge, is useful for those who need to recharge someone's mobile in India or one's own mobile. One can send credit to any mobile in India that uses one of these 12 mobile networks: Vodafone, Airtel, Idea, BSNL, Docomo, Aircel, MTNL, MTS, RELIANCE, TATA Indicom, Uninor, Videocon. The top up is instant and it is very easy to carry out for both experienced and inexperienced users of PhoneIndia.com.
Reviews on platforms such as Trustpilot point out to a serie of benefits:
-Rates are low and really competitive on the global market.
-The service guarantees 100% security; they are a "Certified & Verified."
-Customer Support is available 24/7 in several languages.
-Payment is possible with Paypal besides all major cards
-All currencies are accepted.
-Call records are available for the last 30 days and all invoices are stored in the online account.
-Regular promotions are announced on the Community Facebook page: https://www.facebook.com/PhoneIndia/
PhoneIndia.com is a mobile-friendly website dedicated to the Indian diaspora in the USA, Canada, Australia, Asia and Europe. The service is a brand of KeepCalling, a global telecommunications company registered in 2002 in the USA. Presently, KeepCalling provides its services to hundreds of thousands of consumers and businesses, with a focus on customer satisfaction and transparency of service. KeepCalling was listed by Inc 5000 as one of the fastest growing companies in the USA for 5 consecutive years.