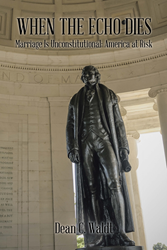 Phoenix (PRWEB) March 06, 2017
Following the interest in the various federal court cases dealing with same-sex marriage, Dean Waldt used the decisions as a case study in the erosion of the foundations of American self-government.
In his book, "When the Echo Dies," Waldt writes that "the echo is a common worldview and moral ethic, born of a Judeo-Christian tradition." It is the echo that allows Americans to rule themselves and limits the power of government. Waldt states that without the echo, America cannot survive.
The Supreme Court ruled that marriage violates the Constitution. The late Justice Scalia declared this decision to be "a threat to American democracy." Waldt takes this issue head-on and asks questions that he says our politically-correct culture tells us cannot be asked. He posits that the federal court marriage decisions are the ultimate example of the abandonment of the foundational "echo" that makes America possible. He then discusses why we must rediscover and re-engage the echo if we are to preserve the American experiment in self-government, involving many voices in a pluralistic society.
"In the same-sex marriage decisions, five unelected justices rejected the shared perception of the echo reflected in the political will of millions of citizens in over 30 states and substituted their personal concepts of liberty and justice without an honest, objective basis," said Waldt. "The flawed reasoning of these decisions exposes them as a pre-determined social result in search of constitutional justification.
"This raw use of governmental power to negate the democratic process constitutes judicial tyranny," Waldt continues. "The Supreme Court marriage decisions were grossly misrepresented and under-reported in the media and this book fills the information gap."
Following President Trump's recent Supreme Court nomination, the message of "When the Echo Dies" is an essential contribution to the discussion about the judicial philosophy of the new Justices of the Supreme Court in whose hands the fate of the American republic may rest.
Readers will be engaged as Waldt highlights why Americans must reject the gag order of political correctness and have conversations about topics that have been added to the list of "taboo topics."
"When the Echo Dies"
By: Dean Waldt
ISBN: 978-1-52457-314-0 (sc); 978-1-5245-7315-7 (hc); 978-1-5245-7313-3 (e-book)
Available on Xlibris, Barnes & Noble and Amazon
About the author
Dean C. Waldt is a senior partner with a large national law firm and has been consistently listed in Best Lawyers in America. He has represented clients in federal courts across the United States for over thirty years. In addition to the degree of Juris Doctor cum laude from Villanova University School of Law, he holds a Master of Divinity degree from Fuller Theological Seminary and a B.A. summa cum laude in Philosophy and Religion from Grove City College.
###
Review Copies & Interview Requests:
LAVIDGE – Phoenix
Courtney Coombes
480-998-2600 x 612
ccoombes(at)lavidge(dot)com
General Inquiries:
LAVIDGE – Phoenix
Maggie Driver
480-998-2600 x 584
mdriver(at)lavidge(dot)com