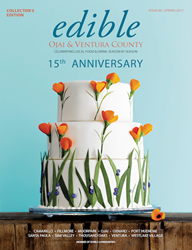 Every farmer, artisan and restaurant influences who we are as a community and we celebrate that in the pages of our magazine
(PRWEB) March 07, 2017
Edible Communities, a James Beard Foundation award-winning family of 100 locally owned and licensed magazines devoted to the local food movement, is marking its 15th anniversary this Spring. Since the launch of Edible Ojai (California) in 2002, Edible Communities' publications have become an influential voice in the food world by keeping focused and passionate about local food, how it's grown and harvested, what defines regional flavors and trends, and how to prepare and present food in a way that's rooted in local culture.
The Edible success is testament to growing interest in hyper-local food and sustainable practices. "It's for communities to learn the stories of their food and the people who nurture it. Every farmer, artisan and restaurant influences who we are as a community and we celebrate that in the pages of our magazine," said Sarene Wallace, editor and owner of Edible Ojai and Ventura County (California) since 2013. Wallace's spring issue, arriving the week of March 6, recognizes the organization's 15-year span, impact and growth.
Edible founders Tracey Ryder and Carole Topalian started Edible Ojai as a one-color, 16-page newsletter to connect local farmers with consumers, sharing with them knowledge about farmers markets, community-supported agriculture farms and farm-to-table restaurants. As the local food movement has grown, so has the Edible network of magazines. From Edible Cape Cod to Edible Ohio Valley to Edible San Antonio to Edible Vancouver and more, the 4-color publications are primarily published on a quarterly schedule, timed to the seasons, with each staying true to informing readers about what's special in their own backyards.
Today, the combined per-issue circulation of Edible titles across North America exceeds 1.5 million copies, outpacing the per issue circulation of Bon Appetit, Vanity Fair and The New Yorker.
Edible Communities helped propel the local food movement, according to noted author and New York University food studies professor Marion Nestle. She cites increases in the production of organic foods, the number of farmers markets and the number of school districts with farm-to-school programs, among other gains since Edible publications have shined a light on the value of local, sustainable and organic foods. "Real social changes start locally, and build from there.That's why Edible Communities matters so much. They are a force for strengthening local food movements, supporting community development and taking political action for a healthier and more sustainable future," Nestle recently wrote.
Edible's family of magazines also grew its credibility as an editorial tour de force when in 2011, the James Beard Foundation honored Edible Communities with its first-ever Publication of the Year Award. In announcing the award, the JBF selection committee cited Edible as: "rooted in distinct culinary regions throughout the United States and Canada, celebrating local, seasonal foods with the goal of transforming the way we shop, cook and eat. Their underlying values speak to today's spirit of shared responsibility: every person has the right to affordable, fresh, healthful food on a daily basis."
Beyond the print editions of the magazines, Edible Communities and the individually owned titles extend their reach and impact through electronic and digital platforms including websites, social media, Edible Radio podcasts and local events.
"The magazine is a spark, helping to create a community where small farmers [can] make a living practicing sustainable agriculture and where that locally grown food is available to everyone every day," said Ryder.
# # #
Edible Communities is the leading network of magazines dedicated to the local food movement. Edible Ojai, launched in 2002 by Tracey Ryder and Carole Topalian, was lauded by Saveur magazine in 2004 as the model for what a regional food magazine should be. That recognition led them to found Edible Communities, Inc. to help other local publishers explore the foods farmed, raised, tended and produced on family farms and by small growers throughout North America. Edible Communities now licenses 100 locally owned and operated titles across North America. Information about Edible Communities and its publications is available at [http://www.ediblecommunities.com. #loyaltolocal
Media Contact:
Nancy Painter,
Executive Director, Edible Communities
nancy(at)ediblemedia(dot)com
201.463.8358
Available for interviews:
Tracey Ryder, co-founder, Edible Communities
Brian Halweil, publisher/editor, Edible Manhattan