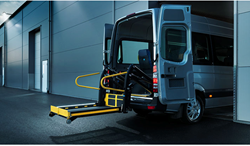 Winamac, Indiana (PRWEB) March 07, 2017
BraunAbility, the global leader in wheelchair-accessible vehicles and wheelchair lifts, has introduced its most innovative and advanced wheelchair lift yet to the international mobility market.
The design of the BraunAbility Q-Series inboard wheelchair lift prevents noise while the wheelchair lift is stowed and the vehicle is in motion. Working with Purdue University Professor Mark French, an acoustics expert, the design engineering team at BraunAbility identified and silenced sources of noise in the lift. The result is a wheelchair lift that, when tested, proved to be between 40 and 400 percent quieter than benchmark comparisons.
"It is the quietest lift we've measured," confirms Phill Bell, director of product portfolio – lifts. "In fact, stepping outside of technical measurements, it was perfectly quiet in the back of the van. You could not hear the difference between an empty van and one with a Q-Series lift installed, even when driving down very bumpy roads."
In addition to noise improvements, the Q-Series engineering team paid special attention to two other critical categories, as indicated by customers: design and safety. The new lift combines an eye-catching curved design with innovative use of geometry, resulting not only in a 10 percent weight reduction over its predecessor, but also a 300 percent improvement in rigidity. Integrated side-plate LED lights, an industry first, illuminate the platform for wheelchair users and alert nearby pedestrians and drivers that a wheelchair lift is in use.
"The BraunAbility Q-Series inboard lift is so advanced for the market that it's in an elite category all on its own," Bell continued. "There simply hasn't been an advancement of this magnitude in the wheelchair lift market in decades, and we are proud of the collaborative efforts that made this product possible."
The lift is initially being released to European-regulation markets through BraunAbility partner Autoadapt and will be introduced to additional international markets later this year. It is not available in Canada and the United States. Visit http://www.autoadapt.com for more information on the product and suppliers.