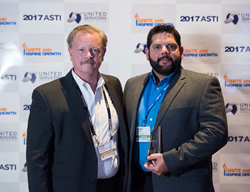 A critical part of the ultra-premium consumer experience is having great post-purchase service that supports the excellent products we manufacture. -Chuck Huebner, Dacor President and CEO
Los Angeles, CA (PRWEB) March 07, 2017
Dacor®, a leading manufacturer of ultra-premium kitchen appliances, received the 2017 United Servicers Association (USA) Partnership Award for its commitment to providing exceptional service training and technical support to business owners and servicers in the appliance industry. The United Servicers Association presented the award to Dacor's regional technical managers during the Annual Service Training Institute (ASTI) conference held February 8-11, 2017 in San Diego, California in front of more than 600 servicers and business professionals. Dacor has been honored every year since the award's inception in 2013.
"We are pleased to be recognized by the United Servicers Association as an outstanding service partner for the fifth consecutive year," said Dacor President and CEO Chuck Huebner. "A critical part of the ultra-premium consumer experience is having great post-purchase service that supports the excellent products we manufacture. At Dacor, we strive to have a team that is well trained, on-time and exceeds expectations."
TWEET THIS: For the fifth consecutive year @Unitedserviceas presents Partnership Award to @DacorKitchen #ASTI2017 http://bit.ly/1kMsIT5
"Dacor consistently displays a commitment to quality training that produces exceptional results for the customer experience," said Sarah Brown, executive director of the United Servicers Association. "We're excited to present them with the Partnership Award for the fifth year in a row, a valid measure of their ongoing efforts to provide outstanding technical training in the industry."
The United Servicers Association offers training to business owners and appliance servicers, and it grants its Partnership Award to companies that participate in its Annual Service Training Institute and demonstrate outstanding service training and support. Dacor previously received the Partnership Award in 2013, 2014, 2015 and 2016.
About Dacor
Founded in 1965, Dacor is a leading manufacturer of ultra-premium kitchen appliances. Designed and built in California, Dacor's cooking appliances integrate function and technology to create high-performing, intuitive products that reflect the lifestyle and needs of the passionate cook. Dacor is also the first and only ultra-premium appliance brand to be tested and recommended by the Master Chefs of Le Cordon Bleu. Le Cordon Bleu is considered the world's most respected culinary arts and hospitality educator. Dacor's full-suite of award-winning appliances include ranges, cooktops, wall ovens, refrigeration, ventilation and wine preservation. The company is responsible for many of the innovations that have improved the way people cook in the modern kitchen. http://www.dacor.com
About United Servicers Association
United Servicers Association (USA) is a non-profit trade association for appliance service professionals that provides services and programs that assist members in building strong businesses in North America's competitive environment. Along with conferences such as the Annual Service Training Institute (ASTI), USA provides educational programs, government lobbying, and a variety of management, marketing and operational programs to support professionals in the servicer industry. http://www.unitedservicers.com