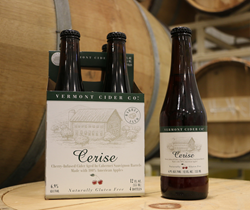 Middlebury, VT (PRWEB) March 07, 2017
Vermont Cider Company™ announces its latest addition to its premium craft cider segment – Cerise, a barrel-aged seasonal, offered for a limited time.
Available beginning in March, Cerise is the second of several barrel-aged ciders that will be offered seasonally, in addition to the year-round flagship cider Addison, a premium craft cider brought to you by the Vermont Cider Co. brand. Both are made with 100% fresh pressed apples from Sunrise Orchards in Cornwall, VT, located less than 10 miles from the Cidery.
It's a limited-time offering that will delight the senses. "Cerise is built from our barrel-aged, 100% local and fresh pressed cider with the juice of tart Michigan Montmorency cherries," said Ben E. Calvi, Director of Cider Making. "Aging cider in Napa Valley barrels infuses notes of Cabernet wine, vanilla and oak with fresh apple and a tart cherry fruits."
Initially offered exclusively in the Northeast, Cerise (6.9% ABV) will retail for $10.99 / 12oz 4 pack. It will also be available in 5.2 gallon kegs.
About Vermont Cider Co.
Vermont Cider Co. introduced the U.S. to the craft cider category 26 years ago. Dedicated exclusively to cider making, they are the proud producers of the original American hard cider, Woodchuck®, the circus of ciders, Gumption®, the west coast native, Wyder's® Cider, and importers of Magners® Irish Cider and Blackthorn®. With an unparalleled focus on quality and innovation, Vermont Cider Co. leads the category in releasing the most premium liquid and pioneering new ciders made from the finest ingredients. Under the watchful eyes of two award-winning cider makers, Vermont Cider Co. produces and distributes from Middlebury, VT, blending together the passion of their consumers, their creativity, and their heritage within the green mountains.
###