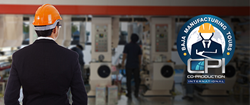 Taking the tour as a team helped our organization in a decisive manner and move from the visionary stage into a real and actual world class incremental analysis solution...
San Diego, CA (PRWEB) March 06, 2017
Co-Production International (CPI) announces its next Mexico manufacturing tour coming up this March 16th. With international trade and NAFTA effects in the headlines, more and more manufacturers are considering manufacturing in Mexico to remain competitive and increase profit margins. Over 1,000 foreign manufacturers are operating in Baja California and are showing no signs of slowing down despite US President Trump's recent rhetoric about NAFTA. It is more clear now than ever that manufacturing in Mexico will always be strong.
"We really have President Trump to thank for all the recent attention. Even we as an industry have taken a deeper dive into analyzing the effects of NAFTA and have found that the US and Mexico relationship is not simply defined as trading partners. Our countries are and have been co-producing together even before NAFTA. Our relationship is deeply woven together after 50 years of international trade strengthening and benefiting both countries," says Denisse Martinez, Marketing Manager and organizer of the CPI Baja Industrial Tours.
"What we've discovered is that once you educate manufacturers and give them a chance to see it first hand, they realize their opportunity for growth on both sides of the border. They finish the tour blown away by the numbers: the lower labor costs for the same quality of work and more importantly the sophistication in the daily flow of trade and products going back and forth in supplies and finished products," says Martinez.
CPI's one-day manufacturing tours to Mexico bring US manufacturing companies to see world class operations in the northern border region of Baja California. At no-cost, manufacturers are picked up in San Diego and spend the day in an education session and visit various types of industrial plants and sites. They also have the opportunity to speak with plant managers asking questions about their personal experience in manufacturing in the region. They finish the day enjoying Baja's delicious regional cuisine and tasting award winning wines.
"Taking the tour as a team helped our organization in a decisive manner and move from the imaginary and visionary stage into a real and actual world class incremental analysis solution. It provided synergy to step into the real and actual opportunity that manufacturing in Tijuana represents," said Danny Viales, Plant Manager for an aftermarket exhaust systems company and former attendee of CPI's Industrial Tours.
Baja California boasts a strong, over 200,000-person workforce dedicated to the electronics, medical device, aerospace and defense, automotive and plastic injection molding industries. With many of its universities and technical schools funneling engineers and highly educated talent into manufacturing, industrial tour attendees leave confident their proprietary and innovative products will be just as designed and specified. Manufacturers are also finding additional cost savings in the currency exchange between the US Dollar and Mexican Peso in materials and supplies purchasing.
As with past CPI Baja Industrial Tours, space fills up fast. If you are interested in this tour or would like to schedule a day that works for your company, please contact Denisse Martinez. Tours can be designed to fit your schedule and needs.
For more information or to sign up for your tour today, please visit:
https://co-production.net/contact/mexico-manufacturing-tour.html
Or Contact:
Denisse Martinez
(619) 429 4344
denissem(at)co-production(dot)net
###
Co-Production International is an administrative services provider located in San Diego, CA, offering successful business expansion solutions, shelter and administrative services, site selection, and the complete set-up of your operation in Mexico.