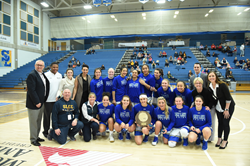 Salt Lake City, Utah (PRWEB) March 06, 2017
The Salt Lake Community College women's basketball team won the Region 18 Championship for the first time in a decade over the weekend by beating Snow College 67-40 on SLCC's home court. The SLCC Bruins head to Lubbock, Texas for the NJCAA National Tournament March 20-25.
Tia Hay, Sica Cuzic and Annie Brady were named to the All-Tournament Team, and Hay also was named the tournament MVP. Head Coach Betsy Specketer was also named the Region 18 Coach of the Year.
SLCC held the Badgers to 34.9 percent shooting and forced 26 turnovers. The Bruins shot 45.5 percent from the field and out-rebounded Snow 37 to 29. Tia Hay led the team with 25 points, shooting 9-13 with five assists and four rebounds while Sica Cuzic went 4-6 from the field, scoring 12 points for the team and grabbing five boards and three steals. Annie Brady and Ebony Norman combined for 16 points, 10 rebounds and six steals.
Salt Lake Community College is an accredited, student-focused, comprehensive community college meeting the diverse needs of the Salt Lake community. Home to more than 61,000 students each year, the College is Utah's leading provider of workforce development programs. SLCC is also the largest supplier of transfer students to Utah's four-year institutions and a perennial Top 10 college nationally for total associate degrees awarded. The College is the sole provider of applied technology courses in the Salt Lake area, with multiple locations, an eCampus, and nearly 1,000 continuing education sites located throughout the Salt Lake Valley. Personal attention from an excellent faculty is paramount at the College, which maintains an average class size of 20.