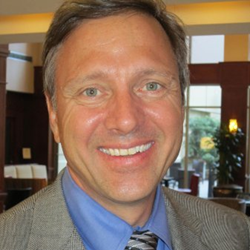 Mountain View, California (PRWEB) March 07, 2017
Treasure Data, the leading cloud platform to make all data connected, current, and easily accessible, today announced the hire of Paul 'Kip' James as the company's first Chief Information Security Officer. In a time when keeping enterprise and client data secure is paramount, Treasure Data welcomes this seasoned IT security expert and retired U.S. Marine Gunnery Sergeant, who has received six medals for technology-related processes and engineering, and whose compliance experience has impacted large enterprises in the secure migration of their data, including NORAD and Lockheed Martin. James has also been instrumental in developing and implementing advanced technical programs and resolutions, and will amplify Treasure Data's stringent security and commitment to data protection and security.
In a short time under James' leadership, he's already expanded Treasure Data's security compliance, beginning with receiving an ISO 27001 certification and implementing the ISO 31000 framework for the Risk Management Program. James is currently working to complete the SSAE 16 SOC 2 Type 2 compliance attestation. These compliance programs ensure that Treasure Data is not just meeting, but exceeding, both their global client's expectations and the industry standards needed for today's global companies working with customer data.
"We understand that our clients' data does more than just track company activity; it often drives critical, real-time decision-making to power profitability or is built into products and services as a key competitive differentiator," said Hiro Yoshikawa, CEO and co-founder of Treasure Data." As the stakes continue to rise, so does our commitment to improving cloud security. We take the responsibility of safeguarding our customers' data as seriously as our technical competency to unify and manage across applications and platforms. We're confident that the addition of Kip, with his corporate and military security backgrounds, will allow Treasure Data to better address the incredible demand for platform resiliency and flexibility in the face of security threats."
As a result of Treasure Data's commitment to data security, Cyber Defense Magazine announced Treasure Data as 'Best Solution – Software as a Service (SaaS)' for the 2017 CDM InfoSec Awards, further proving that the company's Live Data Management platform combines security assurance with the scalability and functionality that global enterprises need to safeguard while also broadening access to data as it becomes increasingly spread through the cloud.
"The opportunity to work with a true pioneer like Treasure Data during this growth phase is incredibly exciting," said James. "The company is not only continuing to expand rapidly, but is also making impressive strides in cloud security through new programs and certifications. The team here has already use top-level frameworks and adopted a well-rounded security program that allows us to not only stay ahead of required certifications, but also scale in ways others can't to meet client data needs. I look forward to guiding Treasure Data through this period of growth, conducting business at a higher level, and moving toward a more secure multi-cloud environment."
James joins Treasure Data following an exceptional 2016, where the company ​closed​ ​a​ ​$25M​ ​Series​ ​C​ ​led​ ​by​ ​SBI​ (formerly known as SoftBank Investment) ​and​ ​INCJ, and debuted its Treasure Workflow, allowing the first multi-cloud data workflow manager enable enterprises to better integrate and analyze data from stores across their organizations and put into one process automation and pipeline engine. To learn more about Treasure Data's live data management, please visit http://www.treasuredata.com.
About Treasure Data
Treasure Data is a pioneer of Live Data Management - making all your organization's data connected, current, and easily accessible to the people and algorithms that drive your business success. With a global customer base including Mitsubishi Heavy Industries, Pioneer, Subaru, Wish, and GE Healthcare, Treasure Data's clients generate more than two million events every second and make nearly seven million data queries monthly, resulting in more predictable and profitable business results. Founded in 2011 in Mountain View, California, with offices in Japan and Korea, Treasure Data is backed by Sierra Ventures, Scale Venture Partners, IT Farm, SBI, INCJ, Bill Tai, and Jerry Yang's AME Cloud Ventures, among others. For more information, visit http://www.treasuredata.com.