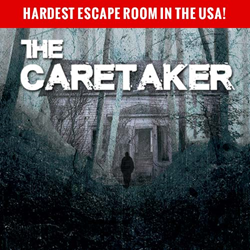 I can hear growling, and it's getting closer. My palms are sweating. I only have a few minutes to find a key in the darkness and escape before I'm devoured by genetically modified wolves... then something pounds on the door!
Orlando, FL (PRWEB) March 07, 2017
America's Escape Game is proud to have been featured in a recent article by Franchise Times, which called America's Escape Game "one of the handful of franchised escape rooms and among the most polished in the nascent industry."
Jim Llewellyn and Alex Reece are the founders of America's Escape Game, one of the handful of franchised escape rooms and among the most polished in the nascent industry. Of course polish is subjective, but when the Orlando Business Journal named them one of the top attractions in Orlando, it put the strip-mall location in contention with some of the biggest global names in entertainment.
So what is an escape room? For the uninitiated, it's essentially a big room you pay to get into and hope you're smart enough to get out of. Getting out involves puzzles, word games and logic. A little fearless curiosity that keeps you from saying, "No, I don't want to stick my hand into that dark hole" helps too.
Each room is filled with thematic props and everything could be a piece of the puzzle. Does that gas mask hold a hidden key? Is there a code within the map? How can the hieroglyphics help us escape?
The craze started in Japan in 2007, and since then has grown to more than 1,800 units worldwide. Reece and Llewellyn founded America's Escape Game in 2015 with three rooms and a small staff, adding two rooms in 2016 and are working on another for this year. And while the business has grown to now two locations and a licensed operation with Marriott, they've been honing the systems behind the scenes.
View Full Franchise Times Article here
Franchising
With 2 corporate locations currently open, and several franchises & licensing agreements under development, America's Escape Game is leading the way in immersive escape room experiences.
What is an Escape Game?
Escape games are an incredibly popular form of entertainment and education. Escape are extremely fun, with exciting surprises at every turn. A group of 2-12 are locked in a themed room and you must work together and use your mental, physical and personal abilities to solve puzzles, decode clues and figure out how to escape within a 60-minute time period. Escape have become a national phenomenon due the broad range of appeal they have for all walks of life in America.
Escape games are both a cerebral workout and social experience for all ages, and have become a popular family and team building activity. America's Escape Game is proud to have hosted corporate team building events with some of the world's most prestigious companies including Disney, Lockheed Martin, FedEx, International Paper, Enterprise Rent-a-Car, PepsiCo, Universal Studios, and many more.
About America's Escape Game
America's Escape Game was founded in April of 2015, and is located in the heart of International Drive in Orlando Florida. America's Escape Game has served more than 100,000 customers since its doors opened and is the worldwide leader in high quality immersive escape games.
AEG Studios
America's Escape Game also owns and operates AEG Studios which offers turn-key escape rooms, escape room development, licensing, technology integrations and more.