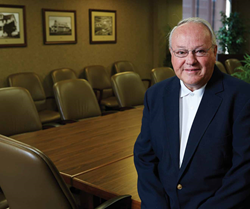 PERKASIE, Pa. (PRWEB) March 06, 2017
Penn Community Bank is pleased to announce that Walter H. Cressman has been named an "Outstanding Director" by the Philadelphia Business Journal for his leadership on the board of directors of Penn Community Bank.
The award recognizes directors who have shepherded successful organizations through periods of change and revenue growth. A 37-year member of the bank's board of directors, Cressman served for many years as board president and was instrumental in the creation of Penn Community Bank in 2015.
"Walter exemplifies community service," said Jeane M. Coyle, President and CEO of Penn Community Bank. "He has given generously of his time and talents for decades, and we are proud to see his service being recognized in this way."
A longtime resident of Richlandtown, Cressman first joined the board of what was then First Federal Savings & Loan of Perkasie in 1979. He was following in the footsteps of his own father, Howard, who had served on the bank's board and as its president for many years.
During Cressman's tenure on the board, seven branches – in Bedminster, Buckingham, Milford, New Britain, Poole's Corner, Quakertown, Richlandtown – were added to the bank's four branches, in Dublin, Riegelsville and two in Perkasie. The bank also added insurance and investment products to its services during Cressman's time as chairman of the board. In 1991, he was involved in the bank's name change to First Savings Bank of Perkasie. Later, he was integral in adding a mutual holding company structure.
Always committed to community banking, Cressman helped lead the bank through unification in 2014 with a fellow mutual bank, First Federal of Bucks County, to form Penn Community Bank, now the leading mutual financial organization in Bucks County and the second largest in Pennsylvania.
"It has been an important goal of mine over the years to ensure that Bucks County residents have the choice to do business with an independent, mutual financial organization that is responsive to community needs, not to shareholders," said Cressman. "I'm proud that the bank is stronger today than it was when I joined the board decades ago, and I'm honored to have been able to serve the organization throughout the years."
In addition to his leadership of the bank board, Cressman served on the board of directors of Grand View Hospital for 34 years, stepping down in 2014. During his time as chairman of the finance committee, the hospital's investments grew from less than $2 million to more than $220 million.
A prominent Upper Bucks County businessman, Cressman ran his family's business, Cress Gas Company, which had been founded by his father in 1939, the same year Walter was born. In 1961, when Cressman took over the company, it had 750 customers and five employees. When he sold the company in 2014, it had grown to 26 staff members serving 10,000 customers.
Cressman was honored by the Philadelphia Business Journal during an awards ceremony on Feb. 23 at the Union League in Philadelphia.
About Penn Community Bank Penn Community Bank holds more than $1.8 billion in assets and employs more than 300 people at 23 bank branches and two administrative centers throughout Bucks County, Pennsylvania. As an independent, mutual financial institution, Penn Community Bank is not publicly traded and operates with its long-term mission in mind: to help businesses grow and prosper, to support individuals and families throughout their lifetimes, to strengthen the local economy, and to partner with local organizations to act as a catalyst for positive growth in every market it serves.
# # #