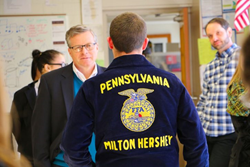 "I can't imagine there are many programs like this in the country for agriculture," Rep. Charlie Dent said. "This is what you might see in institutions in higher education."
HERSHEY, Pa. (PRWEB) March 06, 2017
Recently, U.S. Congressman Charlie Dent of Pennsylvania's 15th District which includes Hershey visited Milton Hershey School to tour the school's Agricultural and Environmental Education Department to gain better awareness of the program available to students in anticipation of National Agriculture Day being celebrated on March 21.
"I was surprised by the depth and the breadth of the programs here [Milton Hershey School] that are offered to the students," Rep. Dent said.
MHS students shared with Dent the experiences they gain through the top-notch program that provides pre-K through 12th grade students with exposure to environmental and agricultural contexts through experiential learning opportunities.
"We are thrilled that Congressman Dent was able to see firsthand how we have enhanced our Agricultural and Environmental Education to incorporate active-learning projects so that our students can excel with a greater understanding of 21st century agribusiness," MHS Director of STEAM & Agricultural & Environmental Education Dr. Jaunine Fouché said.
The school's AEE curriculum also has incorporated STEAM (science, technology, engineering, arts, and math) to expose students to real-world, project-based learning and empower them to apply their knowledge, take on new challenges, and achieve postsecondary success.
"I can't imagine there are many programs like this in the country for agriculture," Rep. Dent said. "This is what you might see in institutions in higher education."
Rep. Dent explored the school's Animal, Environmental, and Horticulture buildings. He also toured the school's STEAM Project Market, a year-round market open to the campus community and the public. It operates through an authentic, student-run business model and a collaborative partnership with AEE and the school's award-winning Career and Technical Education program.
"There are always new programs being developed and new opportunities, and I'm very proud of what is being done here," Rep. Dent said.
More information about Milton Hershey School can be found at mhskids.org.
# # #
ABOUT MILTON HERSHEY SCHOOL
Milton Hershey School® is one of the world's best private schools, offering a top-notch education and positive home life to children in pre-kindergarten through 12th grade from families of lower income at no charge.