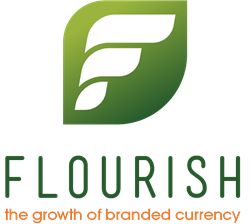 Flourish is the first event of its kind, and The Gift Card Network is thrilled to provide creative support.
Vancouver, WA (PRWEB) March 07, 2017
As part of a 2017 initiative to connect with other payments industry events and bring member benefits, The Gift Card Network has partnered with K+H Connection as a marketing and media sponsor for a brand new event, Flourish. Launching April 10, 2017 in Omaha, NE, Flourish is a three-day event specifically focused on the branded currency industry. Presentations on fraud, benchmarking, and the overall shifting view from gift card to branded currency will provide attendees with an in-depth understanding of the changing trends for gift cards.
"Flourish is taking a fresh view on the state of branded currency. Gift card, prepaid, promotional value, points and affiliate have all grown dramatically in past few years. GCN has helped us creatively brand and cultivate an identity for this conference that will encourage productive conversations on this rapidly changing industry." - Holly Glowaty, Co-Founder, Flourish
As a marketing partner, The Gift Card Network will have events each day of the event. GCN will be hosting an opening reception cocktail hour the night of Monday, April 10, presenting How to be a Gift Card Geek on Tuesday, April 11, and holding the first GCN member meeting Wednesday, April 12. GCN will also be hosting an in-store best practices experiential booth during the conference. Additionally, current GCN members have access to special pricing for registration.
"We're excited to support Flourish because it fills a need for the industry and is an event GCN believes will help move the industry forward." Desiree Wiercyski, Marketing & Communications Manager, The Gift Card Network.
About the Gift Card Network
The Gift Card Network is the home of everything gift card, the only gift card focused media and collaboration network in the world, and a unique organization where Gift Card Geeks can grow and network. Members gain a large number of benefits, such as presence in GCN's various publications, access to educational content, collaborative, and networking events. Any company can join the Gift Card Network to learn about gift cards and interact with other members to help form the future of the gift card industry. Find out more at http://www.thegiftcardnetwork.com