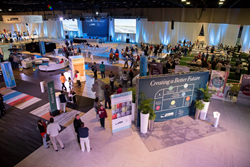 As we celebrate our 50th anniversary, we must be anticipating the next 50 years.
Dalton, Ga. (PRWEB) March 06, 2017
Shaw Industries Group, Inc. (Shaw) commemorates its 50th anniversary in 2017. With deep roots in the textile industry of northwest Georgia, the company was founded in 1967 – the year it formed a holding company to purchase Philadelphia Carpet Company setting it on the trajectory to become the flooring industry leader it is today.
Over the past 50 years, the company's products, services, technology and manufacturing practices have advanced dramatically while maintaining a keen focus on meeting and exceeding customer expectations and innovating for the future. Central to that success is Shaw's 20,000-plus associates.
"We have a proud history of driving the industry forward," said Vance Bell, Chairman and CEO of Shaw Industries. "As we work to achieve our corporate vision of creating a better future for our customers, associates, the company and our communities, we're taking a moment to reflect on our past, but more importantly to transform ourselves into an even more innovative, diverse, sustainable, customer-focused company for the future."
Shaw's year-long celebration includes an associate-focused event that took place in Dalton, Ga. (where the company is headquartered) on March 3 that was attended by more than 4,000 people who work throughout Shaw's expansive operations – from manufacturing and product development to sales and distribution, and the countless other roles required to conceive, create, and market the products of the future.
The energizing, day-long event featured:

Candid presentations from Shaw leaders about the leadership characteristics needed to take the company into the future
A retrospective of Shaw's history told through the personal stories of Shaw associates with the opportunity for attendees to contribute their own stories on-site
Interactive activities to promote collaboration, future thinking, and engagement
A 360-degree tour of Shaw representing the company's showrooms, manufacturing operations, and distribution facilities through a virtual reality experience
"As we celebrate our 50th anniversary, we must be anticipating the next 50 years. We have to ensure we have the foundation to continually anticipate shifts in the market, technology advancements, and consumer preferences. We must continue to grow, change, and innovate, taking what has been positive and strong about our history and culture—and rapidly adapt to a world in which change is accelerating around us exponentially."
About Shaw Industries
Shaw Industries Group, Inc. offers a diverse portfolio of carpet, hardwood, laminate, resilient, tile & stone flooring products, synthetic turf and other specialty items for residential and commercial markets worldwide via its brands Anderson, Patcraft, Philadelphia Commercial, Shaw Contract, Shaw Floors, Shaw Hospitality, Shaw Sports Turf, Southwest Greens, Tuftex, USFloors and more.
Headquartered in Dalton, Georgia, Shaw is a wholly owned subsidiary of Berkshire Hathaway, Inc. The company employs more than 20,000 associates with offices; R&D, manufacturing, warehousing and distribution locations; product showrooms; and/or salespeople throughout the U.S., as well as Australia, Belgium, Brazil, Canada, Chile, China, India, Mexico, Singapore, United Arab Emirates, and the United Kingdom. For more information, visit https://shawinc.com.