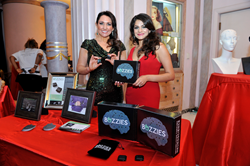 "We were honored to be invited to the event and to explore how Buzzies could benefit celebrity foundations and charities," said Dr. Amy Serin, neuropsychologist and co-founder of Buzzies
Phoenix, AZ (PRWEB) March 07, 2017
Buzzies sparked tremendous buzz at the Academy Awards celebration last Sunday. The revolutionary wearable technology was included as a SWAG gift to top celebrities attending the 21st Annual Roger Neal Style Hollywood 2017 Academy Awards Viewing Dinner at the world-famous Hollywood Museum.
"We were honored to be invited to the event and to explore how Buzzies could benefit celebrity foundations and charities," said Dr. Amy Serin, neuropsychologist and inventor of Buzzies.
A-list actors know first hand the imperative of delivering a focused, top-level performance to every screen, stage and pressroom appearance. As soon as they experienced Buzzies' patent pending BLAST technology (Bi-Lateral Alternating Stimulation Tactile) for themselves at the Style Hollywood Oscar event, they were on board.
"I am the most stressed out person in America! No more stress for me," said Alison Arngrim, best known as Nellie in "Little House on the Prairie" and now a stand-up comedienne. "I'm wearing Buzzies from now on whenever I walk on stage. Whenever I'm anywhere that makes me nervous or distracted, I'll be wearing my Buzzies. I love the fact they can be worn on the wrists but also discreetly in pants pockets or socks using the included clips." said Arngrim.
Buzzies have been shown to reduce stress levels by 74 percent after just 30 seconds of use. The gentle vibrations produced in these non-invasive neuroscience wearables interfere with the body's natural fight/flight/fear (F3) response and can calm the wearer. Not only are Buzzies a useful device to help A-list actors and artists be their best, Buzzies help first responders, top achievers in business and entrepreneurial activities, and adults and families living in high stress environments.
Buzzies were developed by Dr. Amy Serin, a top neuropsychologist and owner of The Serin Center in Arizona. By combining existing neuroscience, clinical data, and electroencephalogram brain mapping to quantify how Buzzies positively impact brain functioning, Dr. Serin discovered she had stumbled upon a miracle that had the potential to be helpful to anyone suffering from stress in their professional, educational or personal lives. As a result, she partnered with Vicki Mayo, an international serial entrepreneur, to co-found The TouchPoint Solution, the parent company of Buzzies.
Buzzies are now market ready and have already helped thousands globally. For more information on Buzzies, please visit http://www.buzzies.com or call 888-55-BUZZIES.
About Buzzies
Buzzies are non-invasive, wearable devices that use patent-pending neuroscience technology to relieve stress and anxiety, improve focus, reduce cravings, improve performance, manage anger, reduce sensory overload and better enable sleep. They can be worn on both wrists or can be placed in more discrete locations, such as socks, pockets, etc. Buzzies need to be worn on both the right and left side of the body to be effective. Buzzies officially launched to the public in December 2016 and are available to purchase online at http://www.buzzies.com for $239.