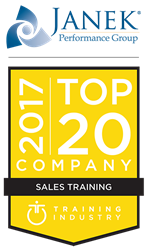 It's humbling to receive this kind of recognition from an independent consortium of experts such as Training Industry.
Las Vegas, NV (PRWEB) March 08, 2017
Janek Performance Group has been added to the Training Industry 2017 Top 20 Sales Training Companies List.
The Top 20 Sales Training Companies list is compiled by online trade publication trainingindustry.com, recognizing leading providers of sales training services, based on the following criteria:

Industry recognition and impact on the sales training industry
Innovation in the sales training market
Company size and growth potential
Breadth of service offering
Strength of clients served
Geographic reach
Janek Performance Group is known for offering its industry-leading sales performance solutions based on forward-thinking research and continuous improvement across a variety of industries and sales platforms. A combination of ongoing research and the identification of best practices drive Janek's world-class training courses and consulting services.
"We're very grateful to have been included on Training Industry's coveted list of leading sales training providers for 2017," said Nick Kane, managing partner at Janek Performance Group. "For well over a decade, we've been delivering holistic sales training solutions with the objective to introduce real and long-term behavior change. With all our training engagements, we take a customized approach to the implementation of our training programs with an emphasis on sustainment of skills to drive maximum ROI for our clients."
According to Training Industry president Ken Taylor, the companies who made the cut to be featured on their 2017 Top 20 list have each demonstrated significant innovation with a specific focus on improving the learning experience and are responding to evolving expectations when it comes to modality, mobility and better use of learning technologies to enhance the sales training experience of their customers.
In addition to being named to Training Industry's 2017 Top Sales Training List, Janek Performance Group also recently received two Silver Stevie® Awards; one for 2017 Sales Training Practice of the Year, and one for 2017 Sales Consulting Practice of the Year.
"It's humbling to receive this kind of recognition from an independent consortium of experts such as Training Industry," said Justin Zappulla, managing partner of Janek Performance Group. "It's a reflection of the heart and soul the entire team at Janek gives to make each training engagement as meaningful and effective as possible for our clients. It's extremely rewarding for all of us here at Janek, especially to our consultants, researchers, facilitators, project managers, and instructional designers who deliver industry-relevant training programs week after week."
About Janek Performance Group
Janek Performance Group, headquartered in Las Vegas, Nevada, is an industry leader in sales performance solutions. At its core, it is a forward-thinking research company, focused on the continual improvement of sales effectiveness and performance across a variety of industries and selling environments. As sales consultants and thought leaders, Janek strives to stay at the forefront of what truly works for top sales performers in today's competitive marketplace. It is this combination of ongoing research and identified best practices that drive the development of world-class sales training courses and consulting processes.
Janek works with a broad range of clients in a variety of industries to provide the resources, expertise, training and consulting services to address today's toughest sales challenges. For more information, call 800-979-0079 or visit http://www.janek.com.