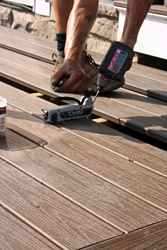 The CAMO Edge Fastening system is the next generation of deck fastening. It's fast, easy and very intuitive. We are going to keep using it.--Dom Paragano, owner, D.L. Paragano Homes
Grand Rapids, MI (PRWEB) March 07, 2017
Dom Paragano, president and owner of D.L. Paragano Homes, Inc., based in Short Hills, NJ, selected the CAMO® Edge Fastening System for the construction of two beautiful decks at his seaside home in Spring Lake, NJ. His crews used Trex® decking in Spiced Rum color on both the front porch and backyard deck, and fastened the edges with the CAMO Edge Fastening System using the Marksman Pro®. The result is an attractive, secure, fastener-free surface solution that replicates indoor flooring. CAMO from National Nail, is the single-source deck solutions center with edge-fastening, face-fastening and the best hidden clips in the industry, according to the company. National Nail recently expanded their CAMO Edge Fastening warranty to cover deck boards in addition to the screws, for added assurance and confidence in installing CAMO with any decking type—wood, composite or pvc.
"Customers are constantly looking for outdoor deck styles that mirror the indoors," says Paragano, a sixth generation builder. "That is why a fastener-free deck surface has risen to the top of their lists—they want a clean, luxurious indoor flooring look taken to the outdoor deck."
Paragano purchased the home from someone who had water damage from Superstorm Sandy, making it necessary to knock it down and rebuild according to new shoreline codes. The property, which Paragano and his family will use as a summer home, is a five-minute walk to the sandy beaches of quiet, sophisticated Spring Lake.
In addition to the front and back edge-fastened composite decks, Paragano selected the highest quality and most durable materials to stand up to the seaside weather, including blue Cedar Impressions siding from Certainteed®; AZEK® PVC trim around the decks; Pella® windows, doors and patio doors, as well as the JELD-WEN® entry door.
With the CAMO Marksman Pro, his crew can quickly and easily deliver CAMO® Edge Deck Screws into the edge of solid or grooved deck boards for fast installation. "The edge fastening system is the next generation of deck fastening," notes Paragano. "Trex or cedar, it works wonderfully for both!" says Paragano.
CAMO offers several guides including the Marksman Pro, Marksman Pro® – X1, MarksmanPro –NB and the no-gap guide, Marksman Edge™ which ranges in cost from $20 to $50. They work with virtually any decking material—composite, PVC, and most soft and hard wood species—with variations to accommodate nominal 6-inch boards as well as narrow boards, and offer a variety of spacing choices, including a no-gap option for treated wood decks that can also be used with secondary spacers when wider gaps are desired.
Simply load the proprietary deck screws into the hand-held guides that position them to be driven into the edge of the deck boards and provide automatic gapping. Special driver bits are included with the screws to ensure depth of drive.
"CAMO is easy to use; you just set it, load it and drill it," explains Paragano. "My crews are addicted to edge fastening. It's fast and easy, and very intuitive. We're going to keep using it."
AZEK® is a registered trademark of CPG International LLC and is unaffiliated with CAMO® or National Nail Corp.
Trex® is a registered trademark of Trex Company and is unaffiliated with CAMO® or National Nail Corp.
Certainteed® is registered trademark of Certainteed Corp. and is unaffiliated with CAMO® or National Nail Corp.
Pella® is a registered trademark of Pella Windows a and is unaffiliated with CAMO® or National Nail Corp.
JELD-WYN® is a registered trademark of JELD-WYN and is unaffiliated with CAMO® or National Nail Corp.
About CAMO Edge Fastening
CAMO Edge Fastening™ from National Nail delivers beautiful, fastener-free, Barefoot Approved™ results with virtually any wood, composite or PVC decking. CAMO® offers a variety of guides, fasteners, and accessories, as well as a collated system to suit project requirements. For more information or to locate a dealer, visit CAMO Fasteners or call 1-800-968-6245. Be sure to "Like" CAMO® Fasteners on Facebook.