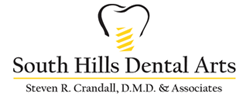 Pittsburgh, PA (PRWEB) March 06, 2017
Dr. Steven Crandall, a noted provider of cosmetic dentistry in Pittsburgh PA, is now accepting new patients for same-day CEREC® tooth restorations, with or without a referral. Dr. Crandall understands the effect a smile can have on a person's confidence and self-esteem, so he and his associates have made it a priority to offer dental crowns, and other cosmetic procedures, that can quickly and effectively result in positive changes for patients at their practice, South Hills Dental Arts. CEREC tooth restorations can improve a patient's health and double as an ideal way for patients to receive the smiles they desire in just one visit.
As leading tooth restoration technology, CEREC provides fast, lasting cosmetic dentistry results patients desire. With in-office CEREC technology, Dr. Crandall digitally maps the entire mouth to create custom tooth restorations for smile makeover procedures. This means patients receive high-quality tooth restorations with a natural look without the traditional wait. Each restoration is customized to individual patients, so they can be sure to have the best fit possible without enduring multiple appointments and temporary dental crowns.
This type of cosmetic dentistry in Pittsburgh, PA has many advantages for patients. CEREC restorations are ideal for patient who suffer from sensitive teeth and are specifically constructed to avoid damage to healthy teeth. Because the technology creates a detailed map of the mouth, Dr. Crandall can also confidently place each tooth restoration with confidence, knowing he provided each patient with a solution that fits their individual needs and will offer long-lasting results.
Patients who want a natural, same-day solution to their cosmetic dentistry needs are invited to contact Dr. Crandall's office for more information. Interested patients can also call 412-922-9292 to schedule an appointment with Dr. Crandall or his associates at their Pittsburgh, PA location.
About the Doctor
Dr. Steven Crandall is a dentist offering individualized dental care to patients in the Upper St. Clair, PA and Pittsburgh, PA areas. Dr. Crandall graduated from the University of Pittsburgh School of Dental Medicine and offers experienced dental implant, TMJ, and Invisalign® treatments along with a wide variety of other services at his two office locations. Dr. Crandall and the entire team at South Hills Dental Arts, understand the importance of learning the most cutting-edge treatment techniques to ensure each patient receives effective and comfortable treatment. To learn more about Dr. Crandall and the services he offers, please visit his website at http://www.southhillsdentalarts.com. To schedule an appointment at his Upper St. Clair office call (412) 833-6166 or (412) 922-9292 for his Ingram Crafton office location in Pittsburgh, PA.