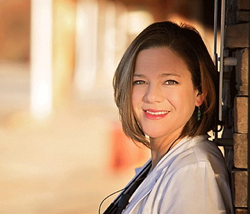 Carnegie, OK (PRWEB) March 06, 2017
Patients interested in Invisalign® in Carnegie, OK, are invited to call Liberty Dental and schedule a complimentary consultation with Dr. Jamie Cameron. Those who want to quickly and discreetly straighten their teeth are encouraged to learn more about the benefits of convenient orthodontics with clear braces.
An increasing number of adults are now choosing to straighten their smiles. Respondents of a recent study by Kelton Global reported that those pictured with straight teeth were perceived as 58 percent more likely to be successful. According to the American Association of Orthodontists, each year more than one million American adults now receive orthodontic treatment.
Whether an adult or teenager, those who wish to improve the appearance of their smiles are often faced with a variety of treatment choices. The type of orthodontic appliance a patient chooses is less important than their decision to receive treatment in the first place, though. Beyond just an image, crooked teeth can cause a variety of complications, including difficulty speaking and lowered self-esteem. Crooked teeth are also frequently more difficult to clean, which increases the chance of tooth decay, cavities and, if left untreated, gum disease.
While many choose to receive traditional, metal braces, Invisalign in Carnegie, OK, is rapidly becoming a more popular choice due to its convenience and comfort. Invisible aligners are smooth on the surface and are not secured to the teeth with brackets and wires, minimizing painful scraps to the inside of the mouth. Instead, they are custom-made to snap comfortably over the surface of the teeth while still being easily removed for cleaning and eating purposes. Due to their discreet nature, many patients also report that their treatment went unnoticed by coworkers, friends and even family.
Patients interested in Invisalign in Carnegie, OK are invited to schedule an appointment with Dr. Cameron by calling her cutting-edge practice, Liberty Dental, at 580-654-1008.
About the Doctor
Liberty Dental is a general dental practice offering cutting-edge and personalized dental care to patients in Carnegie, OK and surrounding areas. After graduating from the University of Oklahoma College of Dentistry, Dr. Jamie Cameron established Liberty Dental in 2010; she is dedicated to continuing education and improving patient care. The Liberty Dental team offers a variety of services using the latest techniques and cutting-edge technology. Services include FASTBRACES®, periodontal disease treatment, sleep apnea relief and dental implant restorations, among other services. Dr. Cameron shares her passion for dentistry with each patient and strives to offer the latest techniques for minimally invasive, long-lasting and effective care. To learn more about Dr. Cameron, or the services offered at Liberty Dental, call 580-654-1008 or visit http://www.libertydds.com.