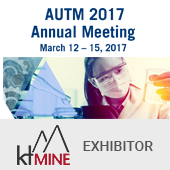 Chicago, IL (PRWEB) March 07, 2017
ktMINE, an intellectual property (IP) information services firm, announced today that they will be exhibiting at the Association of University Technology Managers (AUTM) 2017 Annual Meeting, taking place from March 12-15 2017, in Hollywood, Florida. AUTM is the gold standard for professional development in technology transfer.
ktMINE's Danielle Lambert, Marketing Specialist, and Laura Sorg, Marketing Manager, will be representing ktMINE in the exhibit hall at booth 411. Many tech transfer professionals rely on survey data or experience in their field to prepare licensing deals, however, ktMINE provides access to over 100,000 license agreements and over 60,000 royalty rate structures for evidence-based claims. ktMINE takes the difficulty out of commercialization and lightens the research load with their Technology Transfer Suite. The suite of applications can be used to find potential partners, identify potential deal terms, value technologies, and determine commercial viability. From training to project assistance, a top priority at ktMINE is to provide exceptional customer support, making ktMINE technology transfer professionals' go-to resource for IP intelligence for commercialization.
The 2017 AUTM Annual Meeting is the place for industry dealmakers and investors to network with nearly every academic research institution in the world in one place, at one time. This is the premier annual face-to-face meeting for those responsible for marketing, valuation, protecting, licensing or negotiating university IP. This year's meeting will feature the keynote, "Top 10 Court Decisions That Impact the Way We Negotiate and Draft Patent License Agreements," and fireside chat, "What role does IP play in innovation?". Session tracks are split into topics such as IP Trends and Successful Practices, Licensing Successful Practices, Nuts and Bolts of Technology Transfer, Startups and Gap Funding, and more.
About ktMINE
ktMINE, headquartered in Chicago, IL, is an intellectual property information firm founded in 2008. Focused on minimizing research time, maximizing analysis power, and strengthening business decisions, ktMINE provides businesses across the globe access to insights on industry players, technologies, and developments. For more information, visit http://www.ktmine.com, or contact ktMINE to schedule a meeting.