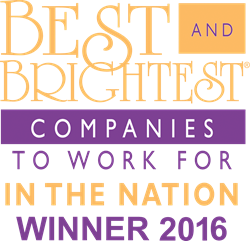 "Our success depends on the products and service our employees provide to our customers and we strive to make Brandt a place where our people feel they can communicate their ideas, work collaboratively, and truly appreciate the type of work they do."
Tallahassee, Florida (PRWEB) March 08, 2017
Brandt Information Services started 2017 on a high note by being recognized as one of 2016's Best and Brightest Companies to Work for in the Nation®.
"We are honored to be recognized as one of the Best & Brightest Companies to Work For," says Brandt CEO, John Thomas. "Our success depends on the products and service our employees provide to our customers and we strive to make Brandt a place where our people feel they can communicate their ideas, work collaboratively, and truly appreciate the type of work they do."
The award is presented by The National Association of Business Resources (NABR), a leading service organization dedicated to providing operational benchmarked practices, tools and resources to the business community in order to enhance their operations and create positive employee impact.
Richard Wise, President of Brandt, said, "It has been a great year for Brandt in terms of employee satisfaction and overall comradery and we hope to continue nurturing this relationship with our employees in 2017."
The company is headquartered in Tallahassee, Florida, has offices in Nashville, Tennessee and Richmond, Virginia, as well as multiple offices in Atlanta, Georgia. In addition to the National award, Brandt was also recognized in 2016 as one of Atlanta's Best & Brightest Companies to Work For®.
The results of the program showed that Brandt scored highest in the areas of employee professional education and development; recruitment, selection and orientation; diversity and inclusion; and Work-Life balance.
To learn more about Brandt's culture and career opportunities, please visit the Brandt Careers page at http://www.brandtinfo.com/#!Careers.
About the Best & Brightest Companies to Work For Program
The Best and Brightest Companies to Work For® competition identifies and honors organizations that display a commitment to excellence in their human resource practices and employee enrichment. Organizations are assessed based on categories such as communication, work-life balance, employee education, diversity, recognition, retention and more. http://www.101bestandbrightest.com
About Brandt
Brandt Information Services offers innovative technology solutions to support natural resource agencies by promoting outdoor participation, customer outreach, marketing, and streamlining business operations through customized recreational licensing & registration solutions. For over 32 years, Brandt has offered local, state, and federal agencies and private organizations best in class technology solutions and services.