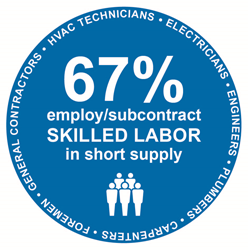 Dallas, TX (PRWEB) March 08, 2017
The Professional Retail Store Maintenance Association, (PRSM), the authority on retail, multi-site facilities management (FM), has released its PRSM Supplier Talent Acquisition & Retention Benchmarking Report.
The report, shows 81 percent of PRSM suppliers compete for the same talent in the highly in-demand project managers and skilled trades professionals PRSM Retailer Members depend upon most – HVAC technicians, electricians, plumbers, mechanics, construction managers, general contractors, etc.
The industry-defining PRSM report also found the following:

86% of salaried, non-management PRSM employees were recruited through social media
81% used LinkedIn to recruit new employees
67% and 62% respectively use Facebook and Twitter to recruit
52% rank "quality of hire" as the most critical metric for successful hiring
77% used performance ratings to evaluate new hires
100% reported finding/sourcing qualified candidates as the top challenge
67% of employees left for a better offer from another employer
37% of employee left due to inadequate salary or bonuses
48% of PRSM employers want to hire veterans or have programs in place to recruit vets
The report also revealed that to improve recruitment, U.S.- based PRSM Members need to: use social media more, increase recruiting budgets and provide better training and education for talent acquisition teams.
International PRSM Members find small talent acquisition teams, budget and understanding acquisition metrics represent their top recruiting challenges.
To aid PRSM members, the report provides the most recent recruiting information as well as guidelines to create plans for recruitment and employee engagement. It also includes information on the use of social media in recruitment, how to measure hiring quality and employing veterans.
The report provides a checklist for successful workforce retention that includes action items for onboarding, compensation/benefits, ongoing manager/employee discussions, career development/growth, communication, and managerial and organizational culture training.
Bill Yanek, PRSM CEO, emphasized the importance of the report findings by stating, "A skilled workforce is critical to the success of retail facilities management and many other industries. PRSM provides and develops excellent FM educational programs and is investigating other ways to address the issue."
PRSM Association's Resources Center provides management tools exclusively for the Retail FM and supplier community. Resources include quarterly white papers on leading industry issues; the annual Best Practices Book that covers a wide spectrum of FM industry trades; and the Retail Facilities Benchmarking program. Other resources such as industry research-based Trends Reports, and Buyer's Guides (print and online), the association's bi-monthly magazine, Professional Retail Store Maintenance (print and electronic), and PRSM Weekly (a news-focused e-newsletter) help keep retail facilities managers up to date on breaking trends and industry issues.
For a full copy of the report, please contact Bruce Condit, VP - Communications and Public Affairs by emailing bcondit(at)prsm.com
###
About the Professional Retail Store Maintenance® Association (PRSM)
PRSM Association, the authority on Retail and Multi-site Facilities Management, is the leading membership organization for retail facilities and vendor professionals. PRSM empowers the Retail Industry facilities management with best practices, benchmarking, education, discussion forums, and trusted partnerships. Chartered in 1995, and with approximately 950 member companies, PRSM community values are founded on a spirit of innovation, resourcefulness, the quest for knowledge and ethical business relationships. Members depend on PRSM to help them achieve greater success and a competitive advantage through quality programs and resources.