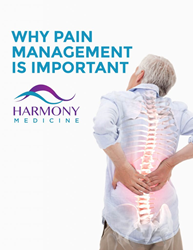 We hope that this publication demonstrates how reputable pain management providers can reduce opioid addiction and abuse.
Nashville, TN (PRWEB) March 08, 2017
Harmony Medicine, a holistic and integrative pain management clinic is happy to announce the publication of its latest content offer, "Why Pain Management is Important."
"It's our goal with this accessible eBook to help people to better understand chronic pain, integrative pain management, and how to find the right holistic pain management provider," said Dr. Richard Adkins, owner of Harmony Medicine and board-certified pain management specialist. "At Harmony Medicine, we believe successful pain management practices can reduce dependency on prescription painkillers and help people live happier and healthier lives. We accomplish this compassionately helping them address and manage their pain. Certainly, we hope that this publication demonstrates how reputable pain management providers can reduce opioid addiction and abuse."
--Chronic pain is a very real problem for many Americans.
--Pain affects more Americans than diabetes, heart disease, and cancer combined.
--Pain is cited as the most common reason Americans seek health care and is a major source of health care costs.
--According to the CDC's National Center for Health Statistics, approximately 76.2 million Americans have suffered from pain lasting longer than 24 hours. 1 in 4 Americans suffer from pain lasting for more than 24 hours.
--Within a three-month period, 25 million U.S. adults had daily chronic pain.
--Chronic pain is the most common cause of long-term disability.
(Source: U.S. Department of Health and Human Services: The National Institute of Health. Page last updated March 29, 2013. "Pain Management: Fact Sheet")
The Harmony Medicine eBook helps readers:

Understand how integrative and holistic pain management works
Unify treatment plans and discover non-pharmacological ways to manage pain
Learn more about pain management certification and how an integrative care team can help
Uncover the questions they need to ask their pain management team and your care providers
Reduce dependency or the likelihood of becoming addicted to prescribed opioid pain medications
The recent case study joins a growing library of Harmony Medicine resources that includes "Do I Need Hormone Replacement Therapy" and "A Recovery Guide for Injured Athletes." Harmony Medicine's resources are written for those who suffer from chronic pain are seeking alternative treatments to improve their quality of life.
About Harmony Medicine
Harmony Medicine strives to focus on disease prevention, pain treatment, and preservation of a patient's overall health. The practice accomplishes this by using an integrative health approach and relying on its multidisciplinary staff. The caring staff and medical professionals at Harmony Medicine understand that the cause of pain is different from patient to patient and they work to understand the specific causes of each patient's discomfort. The practice offers industry-leading pain treatment services that alleviate symptoms and establish a foundation for a lifetime of wellness. Some of the pain treatment services that Harmony Medicine offers include hormone replacement therapy, injection therapy, prolotherapy, and neurological testing.